Rob Hollink is First Dutchman to Win a Bracelet, Dario Wins One for Italy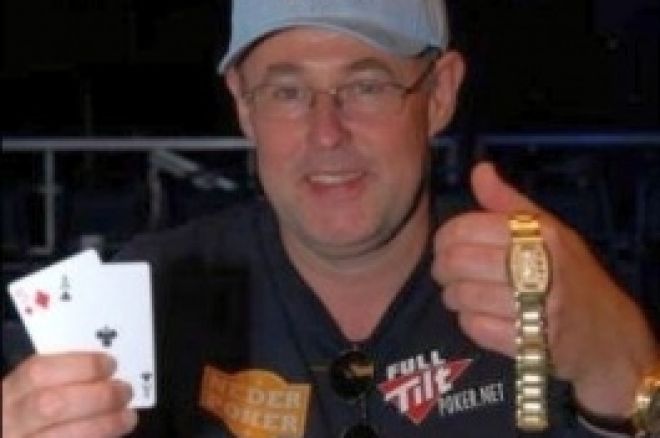 Event #30
Event #30 was the $10K Limit Holdem World Championship Event, and it was won by Dutchman Rob Hollink. He is now the only person from the country of Holland to have won a WSOP bracelet. Rob also won $496K to go with the bracelet.
Hollink has been one of the best European players ever, already with 19 WSOP cashes, 2 WPT cashes, a EPT Finale win in Season One, and well over $2 million in winnings. It took three days of furious poker against one of the toughest fields to date to produce the winner, and as the 'year of the pro' continues it is no surprise another big name took it down. Hollink outlasted 217 other of the best limit players on his way to the title
The final table was stacked with some of the best limit players in the world. Andy Bloch was hunting for his 2nd WSOP bracelet of 2008, and limit specialist Brock Parker wasn't going to give up easily. J.C. Tran was also on the final table, rounding up the more well known players.
The second place finisher was Jerod Ankenman, who won $194k for his 2nd place. This is actually his second 2nd in WSOP limit events, so he proved a worth challenge heads-up. His previous 2nd place was in a $3k buy-in event back in 2006. The last hand was Ankenman holding a


all in against the


of Hollink. They ended up all in preflop, and the board played out





to give Hollink the win.
To read the full report by our live reporters click this link, which describes in great detail how it all went down. In the mean time, congrats to Rob Hollink, who has made Holland proud with his fantastic accomplishment.
This is how the final table paid out:
1 $ 496,931 Rob Hollink
2 $ 307,380 Jerrod Ankenman
3 $ 194,674 Tommy Hang
4 $ 158,813 Aaron Katz
5 $ 128,075 JC Tran
6 $ 102,460 Brock Parker
7 $ 81,968 Andy Bloch
8 $ 66,599 Cy Jassinowsky
9 $ 51,230 Chris Vitch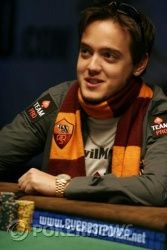 Event #31
Event #31 of the 2008 WSOP was the 6 handed No-Limit Holdem Event with a $2,500 buy in. These shorthanded tournaments are not for the scared players, as dominating aggression is what wins these. It is no surprise that renowned uber-aggressive Italian Dario Minieiri has beaten a huge field of 1012 players to win a first place prize of $528K and the WSOP bracelet. Dario has been making noise around the globe for the last few years. This is his first bracelet in the WSOP, and he won it in his niche game.
Dario eliminated Seth Fischer in 2nd place who won $330k for his efforts. The final hand was a big one, Dario having QdQh all in against the KdTh of Fischer. The board ran out harmlessly, and the Italian fans and friends of Dario rushed the stage in jubilation. This has been a huge week for Italians, as luck has been present in football and poker, doubling the joy of all the supporters in Vegas.
Dario Minieri is a young pro from Italy, who among other things has gained fame for being a PokerStars Pro, ordering a Porsche with Pokerstars Frequent Player Points, being a regular on final tables across Europe, and for always wearing a scarf. He plays a very scary brand of poker, thrusting his stack around with purpose.
This is the 2nd Italian won bracelet in the last couple days, and also part of a streak of Europeans winning. European players are on quite a roll in this year's WSOP!
Here are the final 6 payouts:
1 $ 528,418 Dario Minieri
2 $ 330,519 Seth Fischer
3 $ 214,139 Justin Filtz
4 $ 141,983 Kevin Song
5 $ 98,923 John O'Shea
6 $ 73,784 Stuart Marshak