Two Bracelets Won Today! Team Full Tilt Taking Over...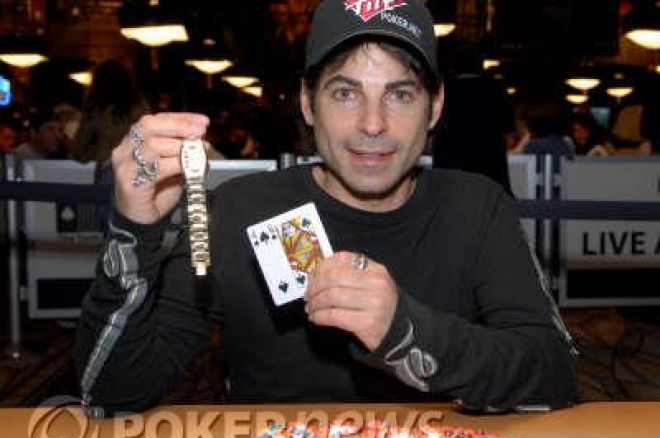 Double Day for Bracelets at the WSOP
The first bracelet of the day came in event #3, which was the $1,500 Pot Limit Holdem Event. This final table went on and on and on until finally David Singer and Jacobo Fernandez ended playing heads up for the title. Neither of them has ever won a bracelet, and Singer has been waiting for this for a long time. David Singer made his dreams come true and took down the bracelet and $214k for his work. Singer has been a Full Tilt Pro for some time, and now has something in common with many of his peers, and that is the elusive WSOP bracelet.
The heads up was quite laborious, as both players took a long time to act, especially Jacobo. They would deliberate and slowly move the chips around, often leaning back in their chairs to think about the right play. This style of play obviously works for them as they made it this far! Jacobo picked up $136k for his 2nd place finish.
The last hand was not as important as the hand right before it.
Jacobo had a decent chip lead and ended up going all in preflop against Singer. This seems like a bit of a strange move considering all Jacobo had was a pair of fives. Singer called with AhKh, and they were off to the races. It looks like Jacobo was willing to gamble to try and win this thing, but unfortunately for him there was an ace on the flop, and no five hit on the turn or river. This hand left Jacobo with about 500k and Singer with 1.7M in chips. The next hand was the last one, when on a board of 3d5s6c7d Singer raised Jacobo all-in. Jacobo called all in with 7-3 up against Singer's Q-4 and the straight. The river was a whiffleball Jh, and the tournament was over.
Congratulations to David Singer for winning his first bracelet! Check out this link to re-live the action of the final table!
This event managed to pull in 713 entries, and the top 72 got paid. This is how the final table paid out:
1 $ 214,131 David Singer
2 $ 136,643 Jacobo Fernandez
3 $ 82,725 Gregory Alston
4 $ 67,640 Robert Lipkin
5 $ 55,474 Russ Harriman
6 $ 43,796 Joe Tehan
7 $ 34,063 Zachary King
8 $ 26,764 Al Barbieri
9 $ 19,464 Glen Bean
Lindgren Takes it Down! E-Dog's First Bracelet!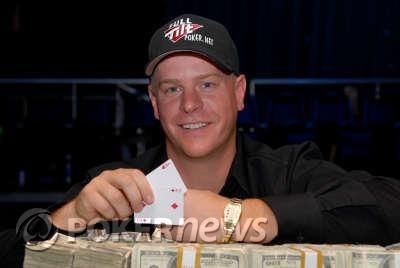 Bracelet for Event #4, $5k Mixed Limit/No Limit Holdem
This event brought out all the stars! After a great final table filled with well known pros and personalities, Erick Lindgren has emerged victorious and won his first WSOP bracelet ever. This has been a great night for Full Tilt Pros, as they went 2 for 2! Impressive!
It is hard to believe that such a known and old-school pro as Lindgren doesn't have a bracelet yet, and it is awesome for him that now he has one. After surviving a table that saw David Williams, Roland de Wolfe, and Howard Lederer hit the rail, Erick found himself heads-up with Team Bodog pro Justin "ZeeJustin" Bonomo.
The heads-up didn't last very long as Lindgren sliced up Bonomo's stack with the skills of a Hollywood plastic surgeon. Erick Lindgren won $374k for first place, and Justin took $230k for his 2nd place finish.
This was an interesting format for an event, being half no limit and half limit betting structures. Here is the link with how the final table played out. It is worth reading to see how someone as skilled as Lindgren completely takes apart another very great player in Bonomo.
Congratulations Erick for your first WSOP bracelet!
Here are the final payouts from the final table:
1 $ 374,505 Erick Lindgren
2 $ 230,159 Justin Bonomo
3 $ 144,337 Andrew Robl
4 $ 117,030 Roland de Wolfe
5 $ 93,624 David Rheem
6 $ 74,119 Howard Lederer
7 $ 58,515 David Williams
8 $ 46,812 Pat Pezzin
9 $ 35,109 Isaac Haxton