Join PokerNews in Battle of the Sites at Paddy Power Poker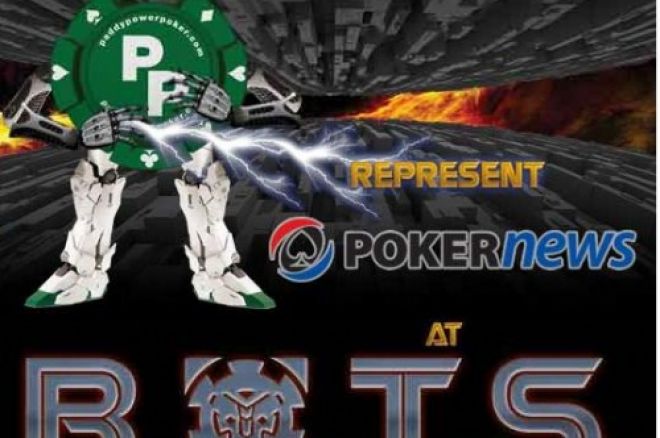 Even more free money is on the horizon courtesy of our good chums at Paddy Power Poker as they give you the chance to represent Pokernews at BOTS. Yes, you can fight our corner at the Battle of the Sites this summer and get some added money and seats to major Irish tournaments to boot.
The BOTS final takes place on September 25th at 8pm, with an Irish Open 2009 package going to the winner and a seat in the Irish Winter Festival for second. There are prizes ranging from $200-$1000 for anyone who makes the final table and you can get there for the measly buy-in of $5+50c in our UK Pokernews qualifier.
$300 has been added to the prize pool of this qualifier on Sunday, August 17th at 8pm and the winner of which gets to represent us at the BOTS finale, as well as picking up the prize money from the qualifier. All you need to do is register an account with Paddy Power Poker through us and use the password botsukp6 upon registering, if you have previously joined Paddy Power via Pokernews, you will also be eligible.
If that doesn't tempt you to sign up today, then maybe you football fanatics will get a kick out of this. What a Load of Balls is just another crazy promotion from Paddy Power Poker where new players can score a special $100 match bonus on their first deposit if the team they choose to win Euro 2008 does just that.
On top of your usual $600 sign up bonus, you will be asked to pick at team on the Paddy Power Poker website. If that team wins Euro 2008 you'll get another bonus up to the value of $100 credited to your account, on the provision you have accumulated 300 Paddy Points (Which you likely will have if you clear your sign up bonus).
"Even though Ireland, England, Wales, Scotland and Northern Ireland have all failed to qualify, it goes without saying that we'll be glued to the TV following the action", said Paddy Power, Communications Manager for paddypowerpoker.com. "In order to add a bit of spice to Euro 2008, we're offering new players the chance to snag an extra $100 by picking the team who goes on and wins it. Since the Irish are out of the running, here's to the Greeks to do the repeat!"
Balls, BOTS and loads of free cash, there has never been a better time to join Paddy Power Poker and fly the flag for Team Pokernews at the same time.