Kitai claims another European Bracelet before David Woo ends the Streak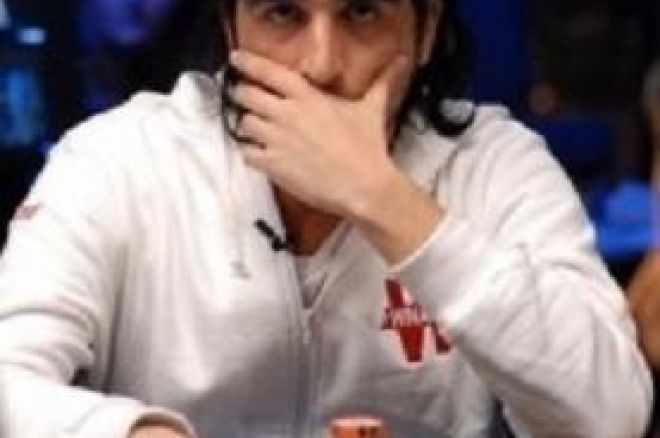 The Europeans at the WSOP 2008 seem to be on a role at the moment as we now have the 3rd Bracelet in a row won by a European player. Only one week after Rob Hollink secured the first ever Dutch Bracelet win, the Belgian pro Davidi Kitai managed to do the same for his home country after winning Event #38, $2,000 Pot-Limit Hold'em, receiving his first Bracelet and $244,546 in prize money.
The final heads-up between Kitai and Chris Bell turned into an epic battle lasting over 5 hours and 187 hands. Bell had started heads-play holding 1.5 million in chips to Kitai's 1 million, and it took 140 hands for Kitai to take over the chiplead. After a preflop raise by Kitai on the big blind, Bell called and both saw a flop



. Kitai bet 125,000, only to see Bell raise it up to 350,000. The turn showed the 4d, Kitai checks and Bell bet out 500K. Before Bell could even place his chips in the middle of the table Kitai had already announced all-in. Bell didn't have much choice but to call the few additional chips, only to find out his K-8 was drawing dead to Kitai's


. Bell was crippled after this pot, with only 250K in chips left in front of him. Nonetheless, it took another 47 hands before the event was decided. Bell finally went all in holding


against Kitai's dominating


. The board blanked and the final table marathon had finally come to an end.
For runner-up Chris Bell, who received $155,806, this was WSOP cash #8, while Kitai claimed his first Bracelet with his 3rd cash at a WSOP event.
Final Table Payouts:
1 Davidi Kitai $244,546
2 Chris Bell $155,806
3 Keith Greer $94,695
4 Jan von Halle $77,077
5 Lee Watkinson $63,313
6 Robert Cheung $50,100
7 Ayaz Mahmood $39,089
8 Ben Roberts $30,831
9 Michael Greco $22,573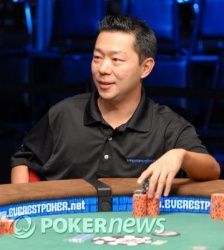 Event #39, the $1,500 No Limit Hold'em event, put an end to the European Bracelet run with the American David Woo claiming his first WSOP Bracelet and $631,656 in cash.
As per usual with low buy-in No Limit events starting on a Saturday, Event #39 attracted a huge playing field of 2,720 players, creating a total prizepool of over $3.7 million. However, as is also typical with low buy-in events with large playing fields, players busted out by the minute, and it only took nine blind levels on day 1 to pass the money bubble and reach the payout places (270).
Woo started the final table on Day 3 with 1 million in chips, which put him in 4th position. However, 73 hands later, Woo won a massive pot while, at the same time, eliminating two players. Thom Werthmann, Curtis Early, David Woo and Matt Wood had all limped/checked preflop to see



appear on the flop. Werthmann bet out 275K, Woo called, Early went all-in for 1.3 million, Wood folded and Werthmann and Woo both called, Woo having both players covered. Werthmann showed


, Early tabled


and Woo was in dominant position, holding the nut straight with


. The turn showed the

and when the

appeared on the river, Early and Werthmann were eliminated in places 6 and 5 respectively and Woo was now in a dominating position.
Two hours and 70 hands later, Matt Wood went all-in holding


on a



flop, only to get called by Woo with


. The turn and river showed no improvement for Wood and the event was decided in Woo's favor. After Woo's 5th place finish in the same event a year earlier ($118,000), he said he had been so disappointed about not winning that year that he "Dusted it all (his winnings) off at the blackjack table in half an hour." At least this year he'll still have a Bracelet to take home to Georgia.
Final Table Payouts:
1 David Woo $631,656
2 Matthew Wood $389,844
3 Eric Beren $278,460
4 Habib Khanis $233,906
5 Thom Werthmann $191,209
6 Curtis Early $150,368
7 Thanh Dat Tran $113,240
8 Mike Glasser $85,394
9 Jim Para $58,290