Poker Interview: Antony Lellouche, "The Apocalyptic Warrior"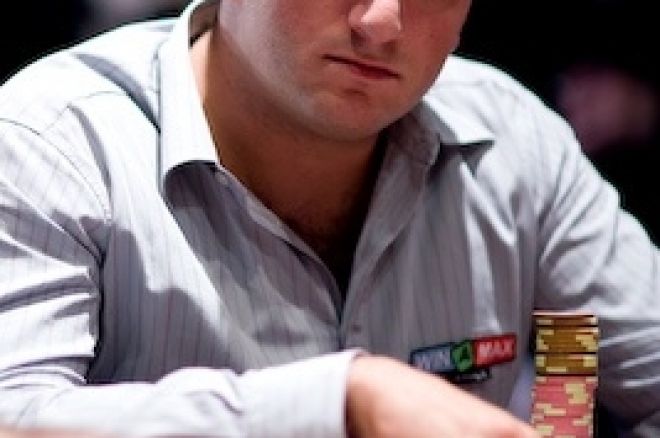 27-year-old Antony Lellouche was long considered one of the most promising French poker players. Now he is fulfilling his promise as the natural leader of the Winamax team and recently finished in a brilliant second place at San Remo during the first Italian tournament of the European Poker Tour (EPT). With his success in London in September of 2007, it's the second final table finish in the same EPT season.
What better place than Italy as the setting for this new poker gladiator to burst onto the scene?
Pokernews: "Antony, what does this victory in a major tournament mean for you?"
Antony Lellouche: "For me the tournament is above all a pleasure. Each win is a step towards victory, as opposed to a cash game. The intensity of this pleasure is a crescendo that increases with the decreasing number of players who remain."
Pokernews: "The French public has looked forward to this great moment which was long in coming. Did this affect your state of mind?"
AL: "Before I definitely wanted to prove to the world that I knew how to play. I played weaker hands more often. Flair seemed important, and somewhat necessary from the point of view of others, but in the end turned out not to be crucial in the long run. Spectacle and solid results very rarely coincide. Seeking out the spectacular somehow betrays a certain self-doubt. I'm more often able to find my balance because today I am convinced that I know how to play."
Pokernews: "There were many Italians in the crowd for the finale at San Remo, but we nonetheless heard your name shouted by fans in the crowd. How do you feel about this support?"
AL: "It's very important to me. Friends support me during tournaments. They allow me to relax. But sometimes I play without that. In London for example [Editor's Note: EPT 2007], I was by myself. I'm able to concentrate in spite of the solitude."
Pokernews: "Do you ever lose confidence in yourself?"
AL: "Never. Well, ok, maybe three times in my life for about two hours. But in those cases I take a shower, I sleep, and it goes away."
Pokernews: "What times in your life have influenced you the most?"
AL: "At the beginning of 2000, when I was still very young, I had the opportunity to practice intensively in a Parisian gaming circle. In fact the games weren't orthodox, we practiced combat more than we practiced poker. The place had it's own spirit, and at some point someone named us the "warriors of the apocalypse." He talked about arenas and gladiators. We were in ancient Rome where players were more like unhinged soldiers than hardened professionals. I played in a massacre where people were cut down every day. Besides money, I also won strength and endurance there. Since then I've lost money one hundred times and come back from hell one hundred and one time."
Pokernews: "How do you regain confidence?"
AL: "In the shower! In the morning, I take a shower and I'm off. When I win, though, I sleep very little, since I feel like going out during the day, see my friends and spend time with the people I love."
Pokernews: "What's your best memory?"
AL: "My third place finish in the Deuce-to-Seven at the World Series of Poker in 2007. Again, it wasn't about the money. Probably no one remembers this tournament except me!"
Pokernews: "And your worst?"
AL: "In Las Vegas in 2005, at one of the World Poker Tour tournaments, the "Doyle Brunson North America" at the Bellagio. I was second chip leader and very well positioned. Tran was the blind, and I had 3-5 on the button, and I did a normal raise and an unknown player called from the small blind with just one chip more than me. The flop: Q-4-7, with two clubs. The small blind checked, Tran at the big blind checked also, I raised the pot without much confidence. The big and small blinds called. A six of clubs comes with the turn. I have a straight. Check, check. I bet two thirds of the pot and the little blind goes all in. I didn't see him with two clubs. I call instantly. He has two Aces! One of them is the Ace of clubs. Club at the river, and it was all over for me."
Pokernews: "You played well!"
AL: "Did I say I'd played poorly? It's only that emotionally it was difficult."
Pokernews: "You were forced to pay because of your assumption that there would be no clubs."
AL: "It doesn't matter. It was one of my first opportunities for a win in a prestigious tournament, and that kind of mistake is like a dagger to the heart in the moment. The only advantage is that that kind of blow helps a player build up his tolerance. If I had that hand again today, I would play it in the same way without feeling the effects. To finish the story, that player finished second and Carlos Mortensen won the tournament."
Pokernews: "Do you think that some day you'll leave the game once you've won a certain sum?"
AL: "Yes. Yes, I'll stop playing poker so that I can concentrate on my career as a real estate negotiator. High-level negotiation is like poker."
Pokernews: "Do you get more pleasure from playing tournaments or cash games?"
AL: "Definitely tournaments. With cash games, I generally know who I'm playing, even in Las Vegas."
Pokernews: "What is your favorite game?"
AL: "Omaha 4 or 5."
Pokernews: "Which player is the most fun to play against?"
AL, after thinking for a while: "Thomas… Thomas the Spaniard."
Pokernews: "Which French player, besides David Benyamine, do you consider to be the most capable?"
AL: "Ian Boubli."
Pokernews: "Paradoxically, in French high stakes games, one has the impression that most of the participants rely more on money than mastery of the game."
AL: "That is precisely because they do have money."
Pokernews: "Why do these players with money allow themselves to play in such games? Do they still exist?"
AL: "They consider it a challenge. They hope to beat the best. They're looking for a thrill. It's also a way to affirm and embellish their social raking."
Pokernews: "Every successful person has some genius within. Do you think that the businessman, who is very present in poker, feels he his able to apply his genius to his game?"
AL: "Yes. Recently I won twice against an Italian player and he complained. I told him, you have a very nice watch! It was a way of reminding him how much money he had. People who are successful in business seek a similar result with poker. They apply their method to the game by seeing successful players as their adversaries. But often their inferiority is flagrant, and it ends up bothering them more than anything else. What doesn't discourage them is that they feel they'll always find away to achieve their desired result."
Pokernews: "Where would you like to be in six months?"
AL: "Six months? That's too far away; there are Vegas and the WSOP. I want to be at the final table."
Pokernews: "How about in ten years?"
AL: "I'd like to have a child in five years, a wife and a working business."
Pokernews: "In thirty years?"
AL: "I don't want my son to play poker. It's too difficult."
Pokernews: "What piece of advice would you offer players?"
AL, after thinking: "Exercise. It's very important. And in the beginning be prepared to suffer."
Pokernews: "Did you suffer much in the beginning?"
AL: "More than anyone. It was useful, though. When I turned 20, after having played in this Parisian circle, I had formed a shell after many disappointing losses. I also found some friendly support. That period of learning in a hostile environment really made me psychologically stronger."
Pokernews: "Looking back, would you say this period was crucial?"
AL: "Yes. A player who never experiences the torment of defeat, and the bad feelings that come with the game will be very fragile. I suffered and I feel mentally stronger. "Nothing very bad can happen to me now. One piece of advice: if you have a child, make sure he doesn't play poker. In order to win you must suffer. I broke my hand in three places, punching a wall out of rage."
Pokernews: "Can poker be a social elevator?"
AL: "No! One mustn't think of it that way. Playing poker well will get you the recognition of other players, maybe even corporate sponsorship. But don't be fooled, it's also a jungle. I would advise players to have a steady job to provide the means to play, all while playing for the pleasure of the game."
Pokernews: "Thank you Antony. Suffering and humility in poker are the lesson one can take from your experience…<
Anthony and Mercier Heads Up at the EPT
br>