UK Legends of Poker: Vicky Coren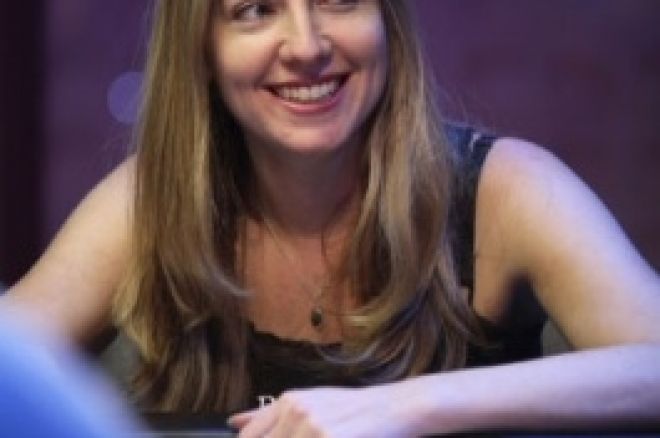 If Pokerstars think she is a UK legend of poker then we think she is a UK legend of poker! The latest inductee to our little poker hall of fame has just put pen to paper on a sponsorship deal with the leading online poker room, which further proves that Vicky Coren is a name to be reckoned with at the tables.
They say that multi tasking is something women are only capable of and this is a prime example – a player, writer and TV presenter, Coren has her finger in a lot of poker pies. A graduate of Oxford University, Coren has been a regular for years in the cash games at the Vic in London, playing alongside the likes of Neil Channing and Willie Tann.
For years she had been more recognisable as a presenter and commentator on shows like Late Night Poker (Which she has also played in) and the William Hill Poker Grand Prix. She also is the series two champion of Celebrity Poker Club. She is still very much a regular fixture on these shows, most recently providing commentary with Roland De Wolfe in the UK edit of the World Poker Tour.
Although most people in the know already knew she was a top poker player, the rest of the world promptly found out in 2006 when she won the London leg of the European Poker Tour, at her stomping ground of the Vic. She defeated Emad Tahtou heads up to take the prestigious title (She is the only female to win an EPT main event to date) and the £500,000 first prize.
Despite the major tournament win and busy TV schedule, Coren still keeps her journalistic options open. She writes a regular poker column for the Guardian and Observer newspapers and to date has written books. So even if the poker wasn't going as spectacularly well for her as it seems to be, she'll always be a name that is known in the UK.
To date her tournament earnings are $1,151,491, she is 26th in the England all time money rankings, the 2nd highest earning UK female and the 10th highest earning female player in the world. With her new sponsorship deal with Pokerstars we can expect those statistics to only increase.