Sun Poker Offers New and Improved Features for UK Players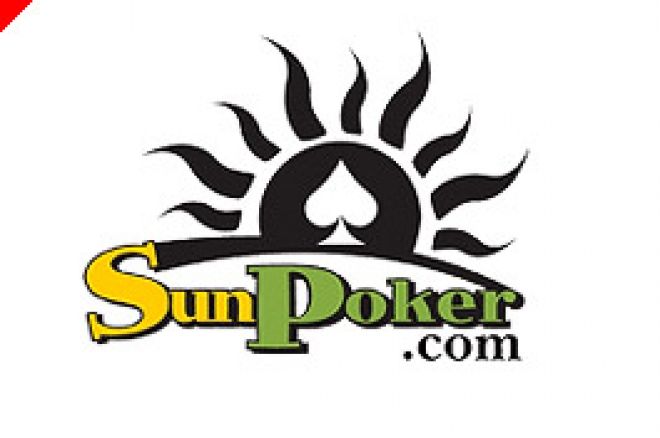 Sun Poker have just announced three new features of interest to UK poker players. They have just made it easier for players from the UK and the rest of Europe to play at their online poker tables. The long awaited British Pound (£) cashier is now available to Sun Poker players and UK customers are now able to play their favourite poker games using the new cashier, without having to worry about exchange rates. British players make up a significant portion of the player base at Sun Poker and the tables will see even more action with a hoped for influx of new British poker players that are now able to easily deposit and withdraw their funds using UK Pounds.
"One of our main priorities over the past several years, was to make it as seamless as possible for our customers to play at Sun Poker using their local currency", said Rob Gallo, Marketing Director at Sun Poker. "With the addition of the £ cashier, players from the UK will not have to worry about making withdrawals or deposits from Pounds (£) to Dollars ($). This certainly shows our commitment to making Sun Poker the BEST place to play."
Sun Poker have also recently released a new flash version, making it now much easier for online poker players to connect to the Sun Poker tables from their computers, with the new "Flash-No Download" version of the popular poker room. This "instant play" version allows players to start playing immediately without the need to download any software onto their computer first. This also means that Sun Poker is now easily played using an Apple Mac.
"We realised that in order for us to serve our players around the world, we needed to give them as many options as possible to enjoy our poker tables", said Greg Harrison, Poker Room Manager at Sun Poker. "The no-download version lets players play immediately regardless of their location. We are thrilled that players owning Mac computers can now easily play at our tables."
One of the major concerns for poker players is having to download poker room software or having to use a PC simulator to play online with a Macintosh. This is not the case anymore at Sun Poker. Players simply enter their login details and can start playing right away. This means users are able to play while away from their normal computer; in an Internet café or even on a friend's computer. Players will not lose graphic quality with the new Flash version. The graphics remain identical, with the ability to resize the poker table to a preferred size without sacrificing quality.
Sun Poker are also offering many additional incentives to encourage new players. With $4 Million in guaranteed tournaments each month and new player bonuses of $500 and £250 respectively, these types of developments continue to make Sun Poker one of the world's leading online poker brands.