Howzat!? - Go to the WSOP with Cricket Legend Shane Warne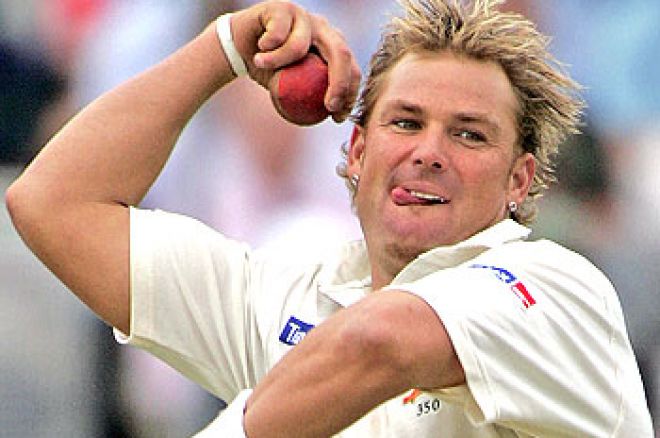 One of the great things about playing in the WSOP Main Event is that not only can you share a table with your poker heroes like Phil Ivey or Daniel Negreanu, you can also share them with bonafide celebrities too. Don't be surprised to see stars such as Matt Damon, James Woods and Lennox Lewis amongst the sea of online qualifiers. Now Pacific Poker not only offer you the chance to play with a celebrity, they are giving you a chance to travel with and buddy up with a genuine legend.
Aussie cricket hero Shane Warne is set to play in the main event this year and Pacific Poker want to send you with him. Not only will you win a full WSOP package plus expenses to the main event, you'll get the chance to travel with Shane, stay at the same 5 star hotel and pick his brains for all the poker tips he has received from Joe Hachem along the way.
For as little as $1.10 you can qualify daily for the special tournament on June 14th, of which the top 8 of each qualifier will make it. You can also get there for nothing by coming in the top 3 of the sites regular free roll competition. The winner of the final on June 14th will be going to Vegas this summer with Shane.
Last month Pacific Poker held a similar tournament for their Australian customers where the winner got an all expenses paid home game with the cricket legend:
'888.com's Ultimate Home Game online poker tournaments became very popular in Australia, attracting poker and Shane Warne fans from across the country,' said Matt Robinson, Marketing Director for 888.com. 'We want to give them the thrill of a lifetime and the chance to play with Shane Warne at the 2008 WSOP.'
There has never been a better time to play at Pacific Poker, not only are they holding some top drawer promotions like this one and the $3 million guaranteed World Poker Crown, they also have upgraded their software. Add on to this a recently improved $400 sign up bonus and you'll literally be bowled over by Pacific Poker.