Marty Smyth Wins the PartyPoker World Open IV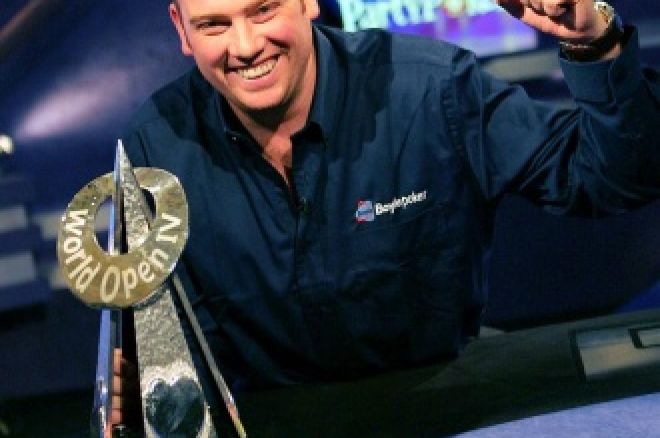 The Party Poker World Open IV was one of the toughest final tables you are likely to see this year, featuring three of the most in form players in the UK. 2007 Irish Open champion and multiple TV tournament finalist Marty Smyth, 2008 Irish Open champion and player of the moment Neil Channing and GUKPT Manchester winner Marc Goodwin, direct from his big win on the Grosvenor tour. The full final table lined up was as follows:

444,000 MARTY SMYTH
388,000 NEIL CHANNING
192,000 ANDY WARD
180,000 MARC GOODWIN
120,000 DIXIE DEAN
76,000 RYAN FRONDA
It was hard to pick a favourite from the three in form UK players, which was cemented by the fact that they ultimately finished 3rd, 2nd and 1st overall. Marc Goodwin was to finish in 3rd, Neil 'Badbeat' Channing in 2nd which means that a long overdue TV tournament win came in for Marty Smyth, who has twice made the final of the Poker Million.
"I'm delighted and very proud," said Smyth, who won the 2007 Irish Open and has made the final table in the Poker Million the last two years. "With the way Neil is running at the moment he was the last person I wanted to take on heads-up. I hope this sparks a run for me as good as his! I'm so happy to win the trophy and the money will come in handy for Vegas."
Hats off to Neil Channing, after a brilliant end to last year he only went and won Smyth's title of the Irish Open Champion this year, which he soon followed up with winning the Poker Nations Cup for Team GB. He also went very deep in the EPT Monte Carlo and despite his recent success was still disappointed with 2nd place: "I thought it was my day," he said "I believed during the final table that if I didn't win this I would be disappointed and I am. That said, it would have been a bit ridiculous if I managed to take down this title aswell!"
The drama reached fever pitch with a sick hand showing how Channing is running at the moment. With the blinds at 7/15, Channing in the small blind limped in with 5 10 off suit. Goodwin checked the big blind with K 5 off suit and the flop unbelievably came down 10 10 10 giving Channing the stone cold nuts with quads. Both players checked the flop and remarkably the turn was KS giving Goodwin a full house. Channing bet $35k, Goodwin made it $70k, and, after checking his cards, Channing went all-in. Goodwin called quickly and was astounded to see what the man who claims to be called 'Badbeat' had and was sent to the rail in third.
But it wasn't to be for Channing as Smyth clawed his way back from a 2:1 chip deficit in a heads up battle that lasted longer than the rest of the heat before it. After playing each other to a stalemate, Channing limped with pocket nines and was reraised by Smyth holding pocket queens. The hands played themselves from this point and no help for Channing as we crowned Marty Smyth the World Open IV Champion.
A PartyPoker.com spokesman said: "It would be fair to say that Marty was an extremely popular winner. He's done European poker a favour by derailing the Channing bandwagon but make no mistake he is one of the finest players on the circuit at the moment."
The final table paid out as follows:

1st - $250,000 – MARTY SMYTH
2nd - $100,000 – NEIL CHANNING
3rd - $60,000 – MARC GOODWIN
4th - $30,000 – ANDY WARD
5th - $25,000 – DIXIE DEAN
6th - $20,000 – RYAN FRONDA