Liv Boeree is the Ladbrokes Poker European Ladies Champion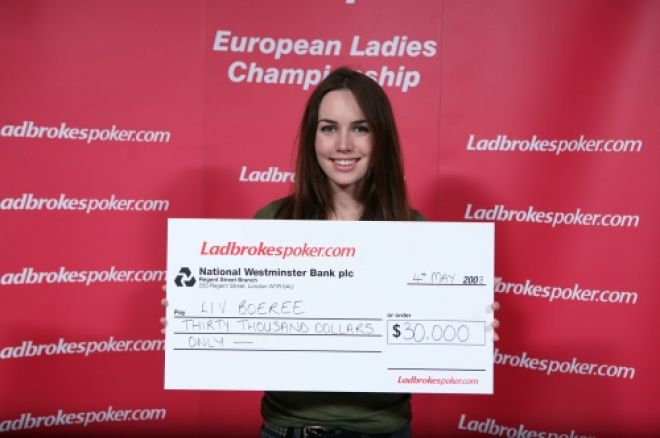 A couple of years ago you could have seen her on a Channel 5 reality show learning how to play poker, but now Liv Boeree is the one that could teach us a thing or two. She defeated some of the top female players in the World including Annette Obrestad, Bev Pace and Michelle Orpe to become the Ladbrokes Poker European Ladies Champion.
52 of the top lady players in Europe came to London for the $2000 event, with a $30,000 first prize and seat in the WSOP Main Event on offer. Next year Ladbrokes Poker are considering increasing the capacity for this event, as demand has been huge. After two days of poker, Boeree quickly dispatched of Lena Martyak heads up to secure the title.
Boeree is a popular face on the circuit, having recently been snapped up by Absolute Poker she has been turning up at all the major events in the UK and on shows like Sky Poker. She said "I'm over the moon with my win. We've all been treated really well by Ladbrokes Poker and the final table was fantastic. Coincidentally, I was recently in a debate about female only tournaments and although I did say I thought they were unnecessary this tourney has exceeded my expectations. The standard of play, the sense of camaraderie, community over the last couple of days has made this an event to remember!"
Lucy Sergides, Ladbrokes Poker Events Manager said: "The ELC is now firmly established as one of the most prestigious women only tournaments in Europe and we couldn't have wished for a better field. At the last count there were three top sponsored players from rival sites in the field and they all agree that the standard of play was excellent. It only goes to show that there is space on the poker circuit for well run women only tournaments such as The Ladbrokes Poker ELC."
Lucy continued: "The original concept of the ELC was to introduce women to live play. The tourney was created to act as a stepping-stone for ladies going on to play in mixed tournaments. I think we've succeeded in creating an environment where women can try on live play for size to see if it fits. The majority of the women have said that they enjoyed the experience so much they'll be back next year and all feel ready to play in live tournaments in general."
The tournament is going to be aired on Sky Sports in July and August.
Final Table and Payouts
First: Liv Boeree $30,000
Second: Lena Martyak $20,000
Third: Shelley Rubenstein $16,000
Fourth: Lise Moller $12,000
Fifth: Jacqui Terry $10,000
Sixth: Karen Muir $6,000
Seventh: Bev Pace $4,0000
Eighth: Karen Holland $2,000