Labrokes Women Champion, WPC Webcast + More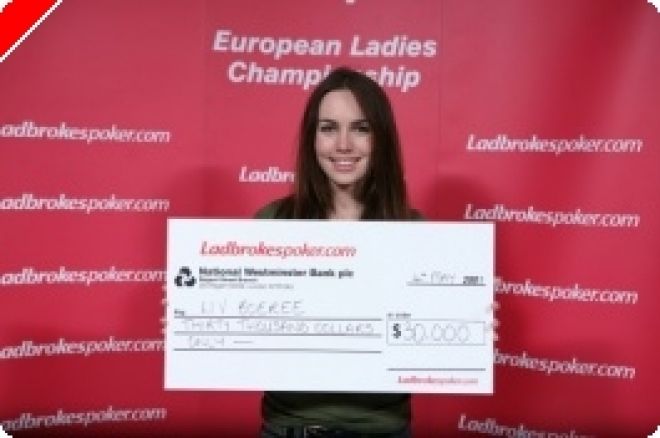 Ladbrokes European Ladies Champ Crowned
Liv Boeree has won the $2k buy-in Ladbrokes European Ladies Championship. Liv took down $30k and a seat in the WSOP Main Event. She first broke on the scene several years back on a Channel 5 reality show. She has since been sponsored by Absolute Poker, who must be pleased with this win. She got past 52 of the best female player in Europe, including WSOPE winner Annette Obrestad, Bev Pace and Michelle Orpe, to become the champion for 2008. Abi Titmuss was also on hand for the tournament, which will undoubtedly increase the television ratings.
This event was heralded as a great success and plans are in the works to improve and enlarge this tournament for next year. Interest and demand for this type of event has been very popular, so it would be fantastic to see an even bigger version of it in the years to follow.
Liv Boeree is quite well known on the circuit across England, and is obviously popular considering she got picked up by Absolute Poker. Since all her buy-ins are looked after she has been getting lots of great experience playing with Europe's best. After the win she said "I'm over the moon with my win. We've all been treated really well by Ladbrokes Poker and the final table was fantastic. Coincidentally, I was recently in a debate about female only tournaments and although I did say I thought they were unnecessary this tourney has exceeded my expectations. The standard of play, the sense of camaraderie, community over the last couple of days has made this an event to remember!"
The spokesperson and Events Manager for Ladbrokes remarked " The ELC is now firmly established as one of the most prestigious women only tournaments in Europe and we couldn't have wished for a better field. At the last count there were three top sponsored players from rival sites in the field and they all agree that the standard of play was excellent. It only goes to show that there is space on the poker circuit for well run women only tournaments such as The Ladbrokes Poker ELC. The original concept of the ELC was to introduce women to live play. The tourney was created to act as a stepping-stone for ladies going on to play in mixed tournaments. I think we've succeeded in creating an environment where women can try on live play for size to see if it fits. The majority of the women have said that they enjoyed the experience so much they'll be back next year and all feel ready to play in live tournaments in general." "
Viewers can catch this tournament on Sky Sports in the months of July and August as it is edited and broadcast for the viewers at home.
The final table pay-outs are as follows:
First: Liv Boeree $30,000
Second: Lena Martyak $20,000
Third: Shelley Rubenstein $16,000
Fourth: Lise Moller $12,000
Fifth: Jacqui Terry $10,000
Sixth: Karen Muir $6,000
Seventh: Bev Pace $4,0000
Eighth: Karen Holland $2,000
Ninth: Cheryl Alden $2,000
Tenth: Michelle Orpe: $2,000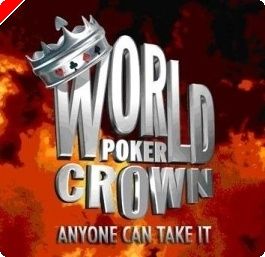 World Poker Crown to be Webcast Tomorrow!
The 888 and Pacific Poker World Poker Crown Final Table is to be played out on May 8th at 3:30 p.m. CET. This is the unique $3 million guarantee tournament that featured 2,200 online players who played down to the final 10. This tournament has super value, and carries an amazing overlay of $800k. The final ten are now in Spain living it up as they get ready to go at tomorrow's live final table. First prize is $1 million dollars!
The final table has 6 Europeans representing several countries. There are also four players from Canada, including both the chip leaders. Remarkably the two top guys have nearly half the chips in play, so it will be interesting to see how their advantages play out. The other strong contingent is the Dutch, who have 3 players.
During the webcast there will be a special tournament with 4 WSOP packages up for grabs, so be sure to tune in.
Here is how the final table is set up:
1. Jack Hinchey (Canada) — 349,000
2. Michael Lawson (Canada) — 207,000
3. Bart Wetsteijn (Netherlands) — 139,000
4. Piotr Skiba (Poland) — 102,000
5. Pini Roberto (Italy) — 85,000
6. Mark Rossler (Germany) — 58,000
7. Mark Castonguay (Canada) — 52,000
8. Arjan van Bavel (Netherlands) — 41,000
9. Michael Leah (Canada) — 40,000
10. Gijsbert van Doesburg (Netherlands) — 38,000
For all the information one could possibly need on this go check out this website World Poker Crown

iPoker Booming
iPoker Network is one of the biggest networks around, and is host to many great sites. Playtech is a publicly traded company based out of Israel that manages the poker room. They recently announced a 97% increase in revenues over the first quarter of 2008. They reported to have made $39 million dollars which is double from the previous year.
The poker aspect, iPoker was responsible for most of this growth, expanding by about 161%. iPoker is now officially the biggest non-USA market site in the world.
The company released some good news in its statement, "The increased liquidity has enabled iPoker to offer a record total of tournament prizes during March of over $15 million, which included a single guaranteed tournament prize of over $2 million. The iPoker network will host the second European Championship of Online Poker on the May 23, which will offer a total of $3.5 million in guaranteed prizes and involve 10 consecutive poker tournaments. In addition, development of the Flash Poker product has been completed and is under testing. Full release of the product to all poker licensees is expected to occur during Q3."
iPoker has added many new sites to the network in 2008, and is looking like a real contender emerging. Hopefully they keep up the great promotions and make the ECOOP one of the greatest online tournaments in the world.