Jack Hinchey Wins the Pacific Poker World Poker Crown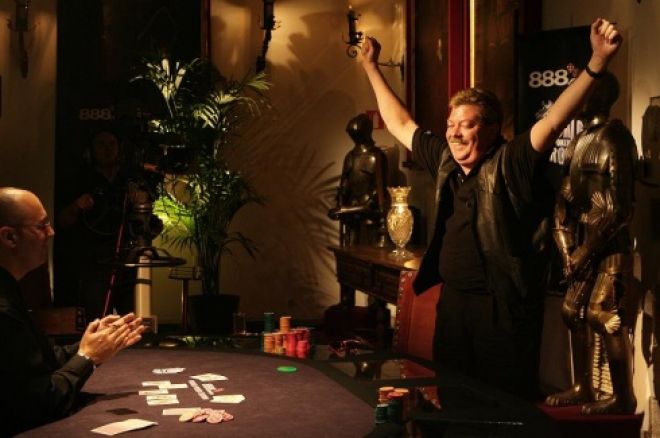 A Canadian plumber defeated one of his fellow countrymen in the early hours of the morning to win the Pacific Poker World Poker Crown. Jack Hinchley won $1 million by defeating Michael Lawson heads up, during a live webcast which for the first time showed player's hole cards as the action happened.
The World Poker Crown is one of the most innovative tournaments of the year. It started as a $1000 buy-in MTT on Pacific Poker which stopped when the final table of 8 was reached. The final contestants were then flown out to Barcelona to play the final table live in the Peralada Castle, in front of the TV cameras.
Heads-up, Hinchey, who is a poker and pool hustling veteran of 30 years, started with a more than 3:1 chip lead over Lawson, who won his seat for $20 on Pacific Poker. The 21-year-old internet pro clawed his way back to a 1.5:1 underdog in chips but a grimly determined Hinchey dug in. The final hand saw Hinchey limp on the button with


and the flop fell a favourable



. Lawson pushed all-in with pair of 10s and Hinchey called. The turn was a jack and the river a third king and the Canadian grandfather was awarded the World Poker Crown.
"This is a lot better than being in a sewage pit!" enthused Hinchey, after his victory. "My strategy was to keep the pressure on everybody, I flubbed a few times in the middle but it worked out in the end. They call Michael an internet pro but I think he's proved to everybody here that he's a poker professional, so thank you. Victoria, my granddaughter is off to uni, she might not like the idea yet but this money is going towards that!"
This tournament had a number of world firsts and records to boast. The $3 million guarantee ensured it is one of the richest online tournaments ever, the $800,000 overlay confirmed it is one of the most generous. It is one of the first every online-live hybrid tournaments and it was the first ever to broadcast hole card cams as the action happened (rather than recorded) over the internet. Pacific Poker customers were also able to bet on the outcome of the event in-play using their new sportsbook service.
The event has also been recorded by Sky Sports with commentary from Jesse May and Padraig Parkinson.
Ed Note: Be part of one of the fastest growing and most innovative poker rooms in Europe at Pacific Poker