An Interview with ELC Champion Liv Boeree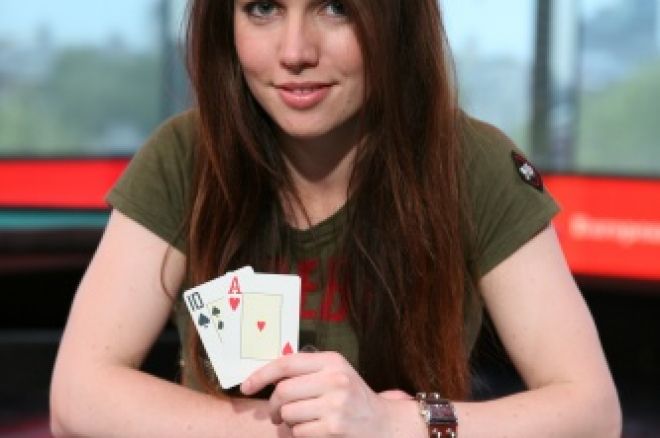 Liv Boeree is a rising star of UK poker. With a sponsorship from Absolute Poker, and the recent Ladbrokes Poker European Ladies Championship in the bank, the world is at this young female players feet.
Mel Lofthouse caught up with Liv, after her ELC victory, for a chat about all things poker.
ML: So, Liv, how does it feel winning the Ladbrokes Poker ELC?
LB: Absolutely incredible! I've been playing poker for about two and half years now, but only full-time for the past few months so winning a title like this feels so fantastic - something I've been dreaming of for quite a while! The best thing is the whole tournament cost me nothing to enter as I won a free roll for a seat back in February for it. Talk about value!
ML Did you have a game plan going into the final table?
LB: Yes, I had found that the most effective play during the early stages of the tournament was to be particularly aggressive, so once I achieved the chip lead I did my best to continue that once I moved to the TV table. I also tried to isolate the more passive players and take lots of small pots off them, which kept my stack size healthy!
ML: What do you think was the key to turning around the tournament to win it?
LB: At the start of day two, when we were down to the final 10 players (the top 8 made the final table), I was actually quite low stacked. Shortly after a lovely situation arose where I had Pocket Kings against Shelley Rubenstein's Jacks (who had a big stack) which doubled me up and back well into contention for the final table. Note that Shelley also made a fantastic comeback to finish 3rd after that!
ML: You've come a long way in a short period of time following on from the Poker show understudied by Phil Hellmuth Jnr and Annie Duke. What are your plans for the future? Will you be at the WSOP this year?
LB: Yes, it seems like such a long time ago now! The best thing is I'm still in touch with Annie and Phil loads, particularly Annie who is essentially mentoring me in the run up to the WSOP. I'm going to be playing lots of events over the six weeks and I'm going to do my everything to bring home a bracelet or two!
ML: What is your stance about playing Ladies only tournaments?
LB: Ha-ha, this is a funny one as I was actually on a TV debate about this a few days before playing the ELC where I was on the "anti" team. In truth, I have quite a hypocritical stance on them; I'm opposed to them in theory but in practice will play them if I believe I can win! Basically, I don't like the idea that women should need or want a separate tournament from men as this implies that they are a) less able to play the game and b) can be intimidated by men. However, I do also see the argument that women only tournaments, particularly high-profile televised ones such as the ELC do promote the game of poker to the general public as they generate so much interest. However, if I was given the choice between two tournaments, both with equal buy-ins and prize pools, I would ALWAYS choose the mixed tourney!
ML: What do you feel you have improved about your game to have had so much recent success?
LB: The biggest error I was making in the past was not being aware of and fully understanding the advantage of position. It was only about six months ago when I started really understanding why it pays to act last, and as soon as I adjusted my game to that the results started coming in. I was also playing far too passively back then, calling too much preflop when I should've been raising and so on. Shortly after, I won a $19,000 package online to play the WPT last December, which was an achievement as I'd never really won anything online at all. Also, since then I've had a course of intensive NLH tuition with Annie which really broke every part of the game down - it was a structured and mathematical course mainly focusing on post-flop game theories that has already proven its weight in gold!
ML: How does it feel joining Absolute Poker's team of sponsored pro players?
LB: Fantastic! I'm so honored to say I'm part of such a great and fun company, and I can't wait to get out there and start playing some big tournaments. It's a dream come true! I really hope I can do them proud and win some more major titles over the next year.
ML: When did you develop an interest in poker?
LB: As soon as I learned the game on the Ultimatepoker.com showdown back in 2005 - I loved the competitiveness of poker and all the various tactics and strategies you can employ to win chips. However, the bug truly got under my skin when I won my first tournament. I'd gone down to the Gutshot to play a £5 rebuy in between shows to get some practice in. I'd never played a proper live tournament before and was absolutely terrified. However, 8 hours later I ended up winning the whole thing, beating 124 other runners. After that I was well and truly hooked on the game, and knew I wanted to make a career out of it.
ML: What do you do in your spare time (if you get any)?
LB: It's all about the metal (the music, not the shiny building material...)! I adore heavy metal and rock and love nothing more than head banging along to it. I've been playing guitar since the age of 16 and recently got back into it in a big way. Now, when I'm not playing online I'm making a din playing along to Children of Bodom or Slayer and the like at home. I've actually been thinking about forming a band, so watch this space...
ML: Did you have any other jobs before you turned pro?
LB: I started playing poker just after graduating from the University of Manchester with a degree in Physics with Astrophysics. However, I wasn't playing nearly enough (or well enough!) to live off it, so I applied for a few "proper" jobs and ended up working for an Online Marketing company as a glorified data analyst and statistician. It was good fun, and I'm glad I've had a couple of years' experience of 9-5 work, but I definitely never want to have to commute to an office again!
ML: Thanks for your time and best of luck in the World Series.