UK PokerNews Interview: Ian Frazer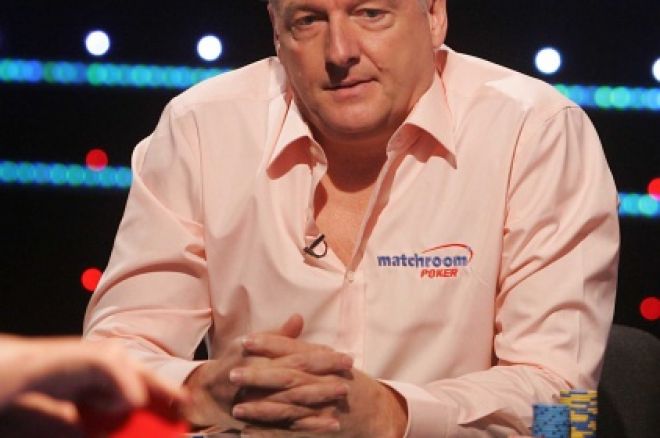 Ian Frazer is a specialist at playing TV poker tournaments. Mel Lofthouse caught up with him before he headed off to his boat in Corfu to relax before the World Series of Poker.
ML: How does it feel being part of the winning team for the Poker Nations Cup?
IF: Well I would rather be playing for GB in the football world cup final! but I suppose I will have to settle for the Poker Nations Cup. Seriously, what a touch eh!? I have been playing these types of poker events for 3 years now and I got picked to play for Team GB along side four fantastic players in Surinder, Joe, Roland & Neil and you win it! How can you not like that? What a buzz.
ML: What was Roland De Wolfe's game plan going into the final table of the Poker Nations Cup?
IF: Roland was very cool with his whole approach to the tournament; he had prepared himself properly for the job in hand and dished out his orders to us like a true captain. He had already set out the order of play for the heats and it worked very well, getting good points on the board early on. The format for the final was: only 4 players could play and each player can only play a max of 3 levels unless you're the last one in. Right away, I knew my chance of playing was slim albeit I played very well in my heat; my teammates had all the experience. To be fair to Roland his choice of players and the order in which he played them was spot on and I congratulate him for that. I think as a team we were great and Roland's enthusiasm spurred us all on to victory.
ML What games/tournaments are you playing in the WSOP?
IF: I am going out on 4th June to play the $1,500 six-handed event the $5,000 & $1,500 shootouts and a $1,500 PLO, then home if I am still alive! Vegas knocks the granny outer me. Really, it then depends on what is happing at home with my work and how I feel will determine if I go back or not for some more.
ML: Do you feel your business has suffered or improved whilst you've been playing poker?
IF: My business has definitely improved over the last 3 years. I am not sure if it has anything to do directly with poker, as I have always had the skills & expertise to recognise a deal and to negotiate slightly in my favour which will give you a head start in any business, but I have a great team behind me and for a small business we all do very well, thank you. ;-)
ML: What do you feel you have improved about your game to have had so much success?
IF: I feel that the reason I was so successful when I started was mainly due to playing very reckless, I would never consider calling a bet ever. I would raise & re-raise only and make the pots very big, very quickly. I found that I had the ability to read weak players very easily. This was a massive advantage to me and I played with no fear of losing at all. This is still the basis of my game as I enjoy playing this way but I have found that against the top players this doesn't wash too easily. They are too experienced and they are so difficult to read. I have found the divide immense however my game is improving very fast and the Fish (Dave Ulliott) has helped me so much with reading hands and people. He is definitely the best there is at that.
ML: Are you sponsored?
IF: I have not got a full time sponsor. I have had a lot of one off deals mainly with Ladbrokes & Matchroom, which I appreciate very much, thank you guys. I don't play that much where I need a sponsor but every dollar helps eh!
ML: When did you develop an interest in poker?
IF: I have always enjoyed playing cards, I used to play kalooki and 7 card stud since I was about 20 and always played for a fair amount then. A good mate of mine, Laney, took me to Vegas for a jolly up and while we were there he took me to down town to Binion's. They were playing satellites for the WSOP. I could not believe what I was seeing! it was massive. I felt the adrenalin rush straight away and couldn't wait to get home and learn the rules. I wanted to play this game for sure.
ML What do you do in your spare time (if you get any)?
IF: Well you are right there's not too much. I go out to Corfu as much as possible I have many friends there and bought a boat last year to mess around on. I play golf too. I'm 18 handicap. When at home I love going into town for dinner & drinks but you can't beat my local curry house "Indian Dining" at Warlingham Green, yum yum. That'll be a bottle of Gavi please Azad!
ML: Any poker gossip you might want to share?
IF: I have become good friends with a lot of poker players since I started playing so I definitely could not give any gossip about any of those. So I think I will plead the fifth and keep my mates. You are ok out there TB!

Ian Frazer televised wins and achievements
2005 UK Open winner $500,000
2005 Global Challenge 9th $5,000
2006 European Open winner $125,000
2006 Goal Poker Champions league winner $17,750
2006 Poker Million qualifier to TV stage $24,000
2007 Premier League Finalist $35,000
2007 World Open 5th $30,000
2007 UK Open semi finalist $15,000
2007 Poker Million Qualifier to TV stage $15,000
2008 European Open 3rd $50,000
2008 Late Night Poker finalist $10,000
2008 Poker Nations Cup Winner $20,000
2008 Norwegian Open TV finalist 6th $19,500