FTOPS Event Results, Huge Payouts!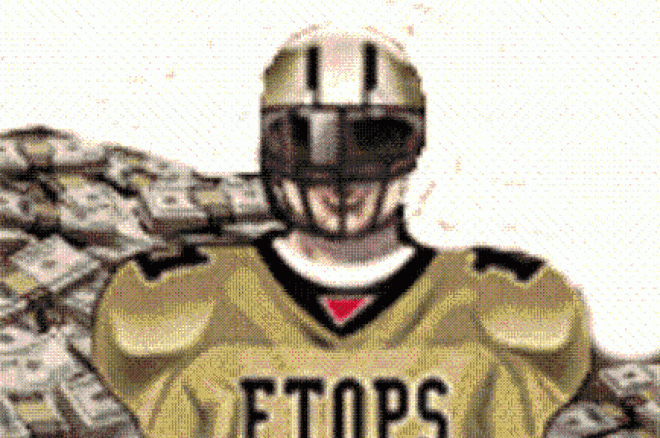 FTOPS Results, Huge Payouts!
The biggest two poker tournaments on the internet have come and gone in the form of FTOPS events #21 and the Main Event. It is not often that online poker tournaments with final prizes of $410k and $516k come along. It is amazing that someone can win half a million dollars while sitting at home in their pajamas. Many props to the Full Tilt team for making these tournaments happen. The sheer enormity of the prize-pools and large amount of entrants display the intense popularity of the FTOPS VII events to the poker community, and pave the path to the FTOPS VIII in gold. We can't wait!
The first of the two massive events that finished was the 2 day event #21 hosted by poker legend Phil Ivey. This had a healthy buy-in of $2620, and had a $1.5M guarantee. The guarantee didn't' matter much when 899 players showed up, making the prize-pool $2.2 million. Phil Ivey made it pretty far and finished in 386th place, well shy of the money though. Out of the top 90 that got paid out, Erich Kollman, recent winner of the PokerNews Cup Austria came 12th place for a cash of $21k. Erich has had a great year!
The winner of this table took the ridiculous $516k first place, and that was to player Halfrek. He took down JRShaffy in heads-up play, but it is doubtful JRShaffy is too upset walking to the bank $325k richer.
The final nine looked like this:
1st Halfrek $516,925
2nd JRShaffy $325,887
3rd IfHeDiesHeDies $241,606
4th philivey567 $185,418
5th binrich $140,468
6th ckingusc $101,137
7th TheStein $67,425
8th lilfishy897 $52,591
9th Hoss_TBF $38,207
FTOPS Main Event
The other big tournament was the Main Event. This had a more affordable buy-in of $535. 4,750 players entered the FTOPS VII Main Event, all contributing to the $2,375,000 prize-pool. First place was $410k, with 648 places paying out. The host to this one was the ever-sweet Jennifer Harman. The weirdest part of this tournament was Phil Ivey bubbling it, showing that maybe he is human after all. Phil came in 649th place to miss the money by one person! Ouch! The host Harman didn't fare to well, busting out in 3647th.
Although this is the main event, its prize pool is smaller than the previous event, stealing some of its thunder. The final table of the Main Event showcased some funny swings as huge stacks went head to head usually with big hands. Overall the table was really tight, and had a great heads-up battle between cheesemonster and MarMoss.
Here is how the final nine put themselves into internet poker history:
1st cheesemonster $410,780
2nd MarMoss $249,375
3rd SLmelonman $161,500
4th frostey $125,875
5th Dwarf $95,000
6th R3dL0bster $71,250
7th kiwid10 $54,625
8th awriver $41,562
9th Strassa2 $30,875
Results for Events #19 and #20
Event #19 was a $216 buy-in No-Limit Holdem event hosted by former European champion and Dutchman Rob Hollink attracted 1,994 entrants, and had a prize pool of $350k. 306 people made the money in this, but only the final table really paid the big money. A player with a funny name "Pot Odds 3" took down first after defeating edub707 in a heads-up battle.
This is what the final 9 looked like:
1 Pot Odds 3 $73,379.20
2 edub707 $45,064.40
3 twix100 $29,511.20
4 Ayodeji13 $23,529.20
5 danielk86 $17,946.00
6 Astrabuddel $12,841.36
7 yrmnyitake $9,371.80
8 Amigo_xxx $7,377.80
9 hunwei $5,583.20
Event #20 was another $216 buy-in event, but was a 6 handed Limit Holdem Event. Limit Holdem is not the most popular game nowadays, but 915 people still managed to enter. The prize-pool was $200k and the final table of 6 had furious action, and was eventually won by mypokerlife.
This is how the final six finished:
Place Player ID Prize
1 mypokerlife $41,700
2 WinHumble $27,800
3 vetiver $19,800
4 ChosenKid $14,800
5 th_IN_kB4Urail $10,600
6 mischiefofmagic $6,800