Ciaran O'Leary gets into Bed with Paddy Power!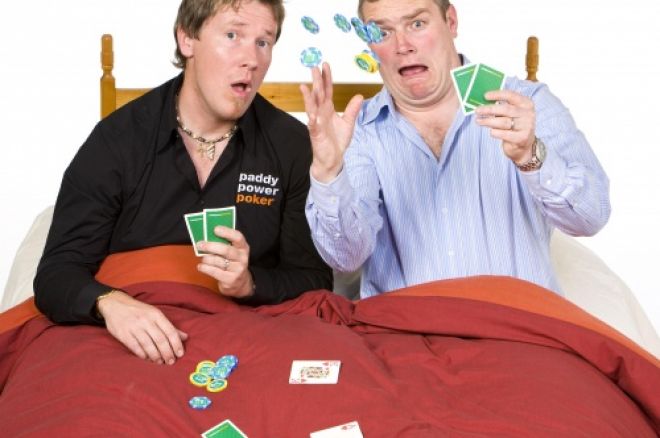 Recently the landscape of poker has been a bit like the closing days of the football transfer window, as poker room after poker room have been unveiling some big names to represent them as sponsored professionals. Now Paddy Power Poker have revealed they won't be left out as Ciaran O'Leary has been named to represent them at the World Series and beyond this year.
'The Big C' as he is known entertained everyone on his way to winning event 3 of the WSOP last year, the $1500 NLHE bracelet tournament. O'Leary captured the gold and $727,012 but really stood out for his fun antics at the table. He was one of the most vocal and funniest players seen at a WSOP final table last year and would regularly sprint away from the table whenever he was all-in, too scared to watch the cards come out on the deck.
Ciaran will be representing Paddy Power Poker at events in the WSOP, the Irish Winter Festival and the Irish Open 2009. Paddy Power himself posed in bed with Ciaran and commented "I have never been so excited to 'get into bed' with another man", said the Communications Manager for paddypowerpoker.com. "Ciaran is the perfect choice to act as the face of paddypowerpoker.com; he is one of Ireland's best players, he is popular on and off the tables and he is always up for a bit of fun – just like us!"
The Paddy Power Poker website now includes a 'Big C' section, which includes O'Leary's blog, tutorial and strategy sections and will serve as a place to follow his progress throughout the poker world. "I'm thrilled to have signed with paddypowerpoker.com and to have the opportunity to represent them live and online", said O'Leary. "To be honest, signing with Paddy Power Poker made the most sense to me; they're a company after my own heart. Not only is the poker software and range of games top notch, but they're known as the most fun and friendly room around; I wouldn't be involved with anything less!"