World Poker Tour Championship Day Four | Vicky Coren Signs With PokerStars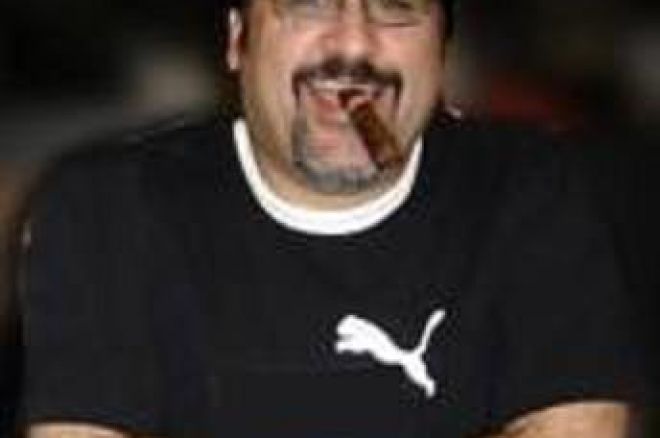 WPT Day Four
Day four for the WPT Championship saw the last 55 players hit the tables with the intention of playing down to the last 18, or 5th level, whichever came first. Going the distance with the 5 levels didn't happen as day four saw players busting out a rapid pace. In fact the very first hand of the day produced a bust-out when Zvi Shiff hit the rail in 55th. This field of the world's top poker talent saw Gus Hansen starting the day as the chip leader, and still had defending champions Carlos Mortensen and Martin de Knijff with healthy stacks.
The bust-outs were fast and furious once again. Notable players J.C Tran and Joe Sebok didn't make it past the last 45 spots, both busting early in the day. Isabelle Mercier went the furthest of all the females, proving once again she is a world-class player, as she busted in 41st. It wasn't in the cards for former champ Martin de Knijff. He got crippled badly in a hand with David Tran, and wasn't able to turn this short stack around and busted in 39th. Ironically the other defending champ Carlos Mortensen busted in 38th when he ran pocket jacks into the aces of Jeff Shulman. Things didn't slow down as players kept getting ousted to the rail. Legend of poker T.J. Cloutier was sent back to the craps tables when his day came to an end in 34th. Dutchman Steve Wong had a strong tournament, but came up short busting in 31st. Men the Master busted in 26th, but provided everyone with some entertainment when he won a huge pot a short while before. He had flopped a monster and all the money went in. Then Men got turned with only 2 outs left, which he managed to hit on the river. He then screamed "Suck and re-suck baby!" which got everyone laughing for obvious reasons.
The longest part of the day was the 'day 5 bubble,' wherein play would stop when it got down to 18 left. Since no-one wants to be the last to bust in a day, this process took a few hours. There were many double up by the short stacks, and a few bug pots between the chip leaders. Mizrachi and Vahedi were involved in one, as was Gus Hansen and Jeff King. Players seemed to be getting restless, and wanted to go home, and this vibe must have been picked up subconsciously as after 2.5 hours of this bubble play two players got eliminated at the same time on different tables. Mark Newhouse lost with ace-ten against Vahedi's pocket deuces to come 18th, while Scott Epstein ran a king-queen offsuit into Jeff Kings pocket aces to bust in 17th.
The action will be back tomorrow as the field will shrink to a final television table of six. The average stack is about 1.7 million, and here are the chip counts and seating arrangements for the final 17:
1. Kenny Tran - 1,442,000
2. Amir Vahedi - 3,907,000
3. Bryan Devonshire - 984,000
4. Jeff King - 1,903,000
5. Tommy Le - 1,950,000
6. Cory Carroll - 1,346,000
7. John Roveto - 556,000
8. Jeff Shulman - 473,000
1. Karga Holt - 1,500,000
2. David Chiu - 1,742,000
3. Tom "Durrrr" Dwan - 2,874,000
4. Andrew Black - 411,000
5. Gus Hansen - 2,929,000
6. David Tran - 2,543,000
7. Nick Binger - 701,000
8. Robert Mizrachi - 1,079,000
9. Michael Gracz - 1,674,000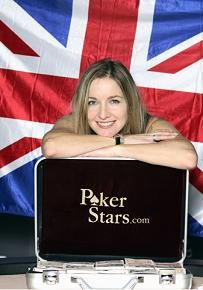 PokerStars Signs Vicky Coren
It was announced today on Pokerstars.com, that EPT winner, journalist, broadcaster and writer Vicky Coren has signed a deal with PokerStars. She will be joining the very elite team PokerStars in events all around the globe. Vicky Coren started playing poker when she was 16, and is a well known player at the Grosvenor Victoria Casino. Victoria is a well respected journalist for the BBC, and writes the poker columns for The Guardian newspaper in England.
She beat out 397 players in season three of the EPT on her home turf in London and took home almost $1 million. She is also the first and only female to have ever won an EPT main event, and is considered the best female poker player in England, and one of the best in Europe. She has been playing on PokerStars for years under the name 'Vicky Coren'
Team Pokerstars typically hires on all the best players in the world, including Daniel Negreanu and Joe Hachem, so it is indeed a great honor for Vicky Coren. She will be playing in all the EPT events for Team PokerStars, and will undoubtedly be at another final table soon.