Rule Britannia! Team GB Win the Poker Nations Cup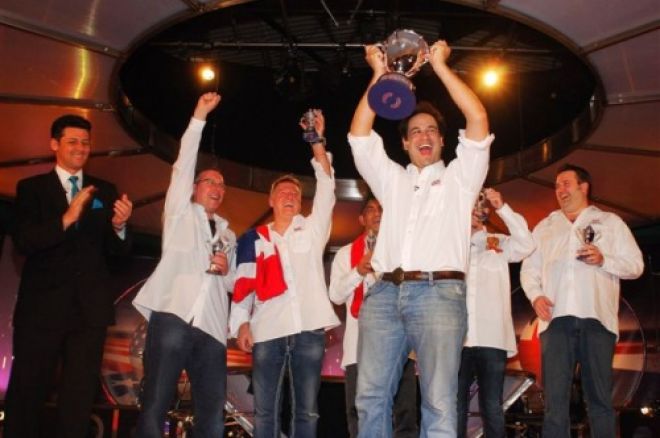 Put out the bunting, god bless the Queen, drink a cup of tea…….Team Great Britain have won the Party Poker Poker Nations Cup! We (being very biased of course) tipped Team GB to make waves this year based on the recent form of its members, and now Roland De Wolfe, Neil Channing, Surinder Sunar, Joe Beevers, Ian Frazer and online qualifier Charlie Durbin have brought the title back to the UK.
You wait your entire career for a trophy and then two come at once, that's the sentiment for Neil 'Bad Beat' Channing right now. Not only has he just won the Irish Open but he was the player who brought the cup home in the 'tag team' format tournament. The team captain, Roland De Wolfe, was in charge of making tactical substitutions and 'time outs':
"I'm absolutely delighted, In many ways it is even better to win a team event for your country than win an individual title. I am so proud that the selections for my team were vindicated," he commented.
"We knew that it would be tight early on so I played Surinder. We fancied that he could exploit his tight image and he had played so well in his heat that it simply had to be him. Next we put on Joe Beevers. At that point we needed to sure things up as we were near the chip lead. This was a choice I made based on the situation. If we had been leading I would have put in Ian Frazer to get at them but Joe did a good job. I played third and always fancied this period of the tournament. I had a good run against Holland's Thierry Van Den Berg and knew that blind stealing would be key at this stage before the blinds got too big. Neil had to play last as he had the form and confidence. Even though neither Ian Frazer or Charlie Durbin were involved at this stage, both were key to our success. Both played excellently in the heats and the decisions were hard but we were only allowed to play four players in the final."
A big well done goes to Team Ireland, whom Britain were heads up against in the finale. Channing beat Irish legend Donnacha O'Dea when his 10h 9h out kicked the 10c 3 c of O'Dea when a 10 hit the turn. Channing was originally penciled in as a television reporter for the event coverage but after his Irish Open win was asked by captain de Wolfe to take his place in the line-up. "I am just as proud of this as I am of my win in Ireland," said Channing. "It was an honour to be picked to represent my country and great to be chosen to play the crucial final leg for the team."
A PartyPoker.com spokesman said: "Neil Channing is running so good that Great Britain looked like the winners when it got short handed. Full credit must go to Ireland, however, who brought a great atmosphere to the tournament and very nearly pipped them at the post. On paper, the likes of Chris Ferguson and Jamie Gold for Team USA look very intimidating but it seems like when they cross the Atlantic for these tournaments they just can't quite get it right."
PARTYPOKER.COM POKER NATIONS CUP 7th – 10th April 2008 – FINAL STANDINGS
1st GREAT BRITAIN - $100,000
2nd IRELAND - $30,000
3rd HOLLAND
4th GERMANY
5th SWEDEN
6th USA