Poker Godfathers Unite! – Part 2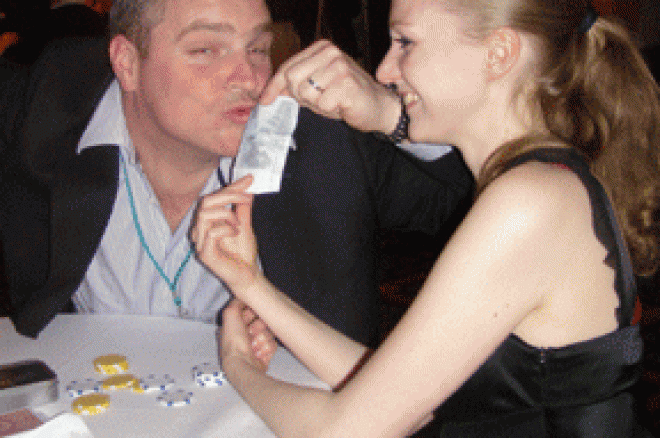 Continuing on from Part 1, I had found myself deep in conversation with the king of Irish betting and poker, the very charming Paddy Power, prior to challenging him to a heads-up dual with the Catgirl.
"The most important thing for me to know at the moment, Paddy, is, how did you do from Cheltenham?"
"Let's say two out of 25 favourites is a very poor return for the public but if Kauto Star had beaten Denman, we would have been £2 million down. Why is it so important Catman?"
"Well, most importantly, we need to decide the game stakes, Paddy. It is normal that Catgirl puts up a fiver and the opponent puts up something more meaningful, such as a seat to the main event." I subtly explained. Paddy, still beaming from ear to ear, makes the move to his PR man Nicholas Whelan and returns. "Catman, can we play for something else, how about £100, whatever you want. But I tell you what, if I win the seat in the media event, it is Catgirl's!"
Paddy Power exudes a charm like no other, he is Ireland's shining star and indeed a gentleman beyond the meaning of the word.
Paddy and Poker
Paddy's interest in poker has grown from strength to strength up to its present day support of the Irish Open: "I love playing the game, but I was lucky enough to realise I am really s*** at the game. My first game was in Galway. After 4 hours, the manager tapped me on the shoulder and asked me if I wanted to be taught how to play. After that I knew I was in trouble!"
Has your game improved since then? "No, I am still rubbish, but you got to put your money down to find out."
The Catgirl is shocked to learn that I have not arranged for a dealer, and this one game "Heads Up for A Fiver" begins on a table holding several pints of Guinness. How was the feeling for the man at the helm of Ireland's biggest event? "If you want the answer in Dublin's rip off cockney, it is "fecking" amazing. It's brilliant. The atmosphere is sensational, it's become an animal. The craic is mighty, well especially for this game. How can you complain?"
The bar lobby is heaving, the Irish band is blasting a gig away in the background, and Paddy is up to 900 chips, with the Catgirl left with 300.
"How much are these chips worth, Catman? Oops, I suppose we should have let him know, but this was a fun game. Not a soul interrupts our game, there is a lot of respect for this totally unassuming legend.
The City West convention room has been decked out to the highest casino standards. In fact it is being run as a casino by the Merrion Club. The room is ready to seat 400 plus players per sitting, meticulously branded and feeling more comfortable and inviting than most tournament arenas, but hey, this is Ireland. Welcoming and doing things the right way is second nature, even the usual smattering of imported dealers like Laurent and Hugo are beaming from ear to ear. It is a teutonic operation which might provide a future template for all events, especially the customer service side.
I continued, "I have described you as the Godfather of Poker in Ireland and I see you have Doyle here too, is it a Don's convention?" "You make me laugh, I may well be the Godfather of Punting. Doyle, what a legend, he has a soft spot for Ireland. He is a veteran survivor, an utter gentleman and a pleasure. We invited him, we were optimistic, hoping, you have got to."
Paddy is a man of few words, but huge smiles, honest and to the point. "Paddy, what else would you like to say?"
"This is Ireland biggest and richest sporting event, it's getting bigger, that's it like!."
By this time the Catgirl is all in, and Paddy wins the fiver: "Remember, if I win the Media Event ticket, Catgirl gets it, I promise." I was hoping the Godfather was referring to the ticket.
Media Frenzy
We entered the main tournament arena for the media event; the prize is a ticket to the Irish Open. The main event has 200k Euro added and the prize pool is estimated at 3 million, so there are some serious faces in our blaggers freeroll.
I take my seat to face six seat TV tournament king Ian Frazer, also seated is the like of Des Wilson, Mick McCloskey and Derek Kelly. When Ian Frazer takes a toilet or bar break, Liam Flood sits down and donks a few of Frazer's chips and the game goes on. Frazer was playing to win and it was interesting to watch this seasoned pro tear into a few of the novices with his table talk. Naturally, I managed to get a little mileage out of this by throwing a big bluff at Frazer and standing up to his 5 minute stare down, showing the bluff and hopefully contributing to a deterioration in his play.
The tannoy was announcing bigger and bigger cash games, the room was buzzing, and our 5 tables were soon whittled down to one. My horse was the Governor himself and Paddy's game so far had been to flat call as many hands as possible and win he did. He had honestly told me that he really did have no idea of how to play, just to play and have fun. It was time for a quiet pre-final word. "If it is good enough to call, it is good enough to raise, make it meaningful" I whispered in Paddy Power's ears. Paddy's game changed for the better and he won an unlucky 3rd as I nearly vomited.
The cash games were now in full blast and we were just in time to catch the rear end of a mighty brew up at the £5,000 NLHE. The Devilfish, Jon Duthie and Ian Frazer were all singing sweet poetic phrases at each other. The Devilfish was apologising for the way things were dealt with to the jubilant railbirds, now six deep. It was like a micro game at Wembley, The Devilfish should have been charging for the entertainment as the crowd was loving it. There are no more gentlemanly players than the Irish, and of course a good old fashioned blarney is part and parcel of Irish humour. In turn they offered the Fish a small round of applause.
Our day was over but the memory lingers on like a beautiful woman walking up the stairs with no underwear. The combination of a sensational poker arena with the attention of some of the most hospitable folk in the world, the Irish, makes for an experience you want to taste, day in, day out.
There is so much to learn from a trip to Ireland and the Irish people. Above all that life and poker can be a pleasant sociable game, and of course nothing beats service and life with a smile.
The Paddy Power Irish Open has only just begun.
Footnote: All Godfathers in this piece had no known Mafia connections at the time of writing. Hey, Paddy, send me my ear back now!
Catman is Europe's leading Poker Agent