Nudity Banned from PartyPoker World Open + GUKPT Won by Mr. Cool + More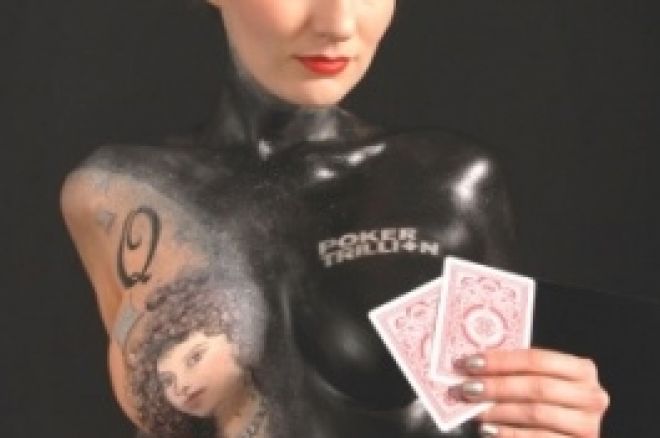 Nudity Banned From PartyPoker World Open
An interesting spectacle has developed at the PartyPoker World Open. As poker is gaining interest in Europe, it seems as if semi-naked women are increasingly involving themselves in the industry. Young up and comer 'Catgirl' had planned on playing in this event in her birthday suit in celebration of her birthday earlier this week. This 23 year old Russian contortionist has been setting the male hearts on fire ever since a photo-shoot with a very happy Doyle Brunson and her at last year's WSOPE. Unfortunately Channel 5, the power that is at this event, implemented and enforced a 'no-nudity' rule. Catgirl was allowed however to wear the body paint suit seen in the picture.
The PartyPoker World Open is comprised of heats, and the fact that Catgirl is naked will undoubtedly help her through her heat which showcases brilliant poker stars Surinder Sunar, Devilfish, Ian Woodley and John Tabatabai. Hopefully the lack of clothes disrupts the concentration of some of these pros, and one would imagine Devilfish will be a write off.
To quote the Catman, obviously Catgirls other half and friend of PokerNews "This heat is going to bring a new dimension of glamour to TV poker, which can often be dominated by not quite so attractive male poker faces. Who wouldn't want to watch the flushing face of the Devilfish as he tries to get a read on Catgirl's body language, then tries to bluff this lady in the buff, this will be must watch TV Poker." They have made it clear that poker TV ratings are important, and are happy to try and boost them.
Catgirl was quoted "I've played poker for two years now and have had a lot of success in high stakes cash. Poker is about entertainment as well being a very serious business, I want to go forward as a professional player, so why not give the world something to talk about - There is a lot at stake, but I want to have some fun and if it is my lucky day, then the sky's the limit. I am grateful to my sponsors PokerTrillion for giving me this opportunity, I am playing to win."
We will know soon enough if the Catgirl body paint suit will help her versus these world class players. We do know for sure this will be some must see poker television watching how the players react to such a stunt. As mentioned, she was put in by PokerTrillion, and CEO Andy Pryah said "Catgirls heat is like a who's who of poker, she's going to need to have all her talent on display if she's going to take down this table. Let's just hope the likes of Flood and Devilfish don't decide to go topless!"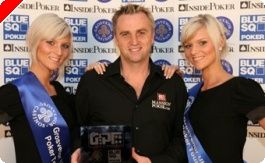 Marc "Mr Cool" Goodwin Wins GUKPT Leg 4 in Manchester
Leg 4 of the Grosvenor U.K. Poker Tour in Manchester is in the books, and Marc Goodwin has emerged as the winner. He is known as Mr. Cool around the poker world, and he coolly defeated a 309 player field to take home £90,420 earning his nickname.
Heading into the final table was a number of players deserving of a major title win.
Marc Goodwin - 517,000
Zachary Ford - 614,000
Charles Ihle - 241,000
Paul Gourlay - 225,000
Nik Persaud – 559,000
Aarun Bernard - 294,500
Paul Lammas - 223,000
Laurance Houghton - 243,500
Pete Linton - 205,500
The final table was dominated by Nik Persaud and Marc Goodwin. These two adversaries were super active; taking turns knocking out players and battling each other for pots. They changed the chip lead back and forth over and over until finally Goodwin knocked out Zachary Ford for 3rd place, leading to a 2:1 chip advantage in the heads up.
The heads-up lasted a short time, and the tournament ended when all the chips went into the middle on an A-T-3 flop. Goodwin held the deadmans hand A-8 against Presaud's K-T. Goodwin held up and took the first place. While Goodman played excellently to take this down, 2nd place finisher Presaud has been on an incredible run in the GUKPT. He is the overall leader on the player of the year race, and this has been his third final table of this year on the GUKPT.
The next stop on the Grosvenor Tour is in Newcastle starting on May 14th. Here is the list of the final payouts at the final table:
Marc Goodwin £90,420
Nik Persaud £52,530
Zachary Ford £37,850
Charles Ihle £25,490
Aarun Bernard £19,310
Laurence Houghton £15,450
Paul Gourlay £12,360
Paul Lammas £9,270
Pete Linton £6,950

Denmark Licensing Gambling + The Holland Casino Situation in Holland
The minister for taxation has claimed the government is close to making a licensing system for gambling. Kristian Jensen, a minister for the government has gone on the radio and said they are planning some serious reforms in the gambling industry. They would provide for licensing systems to regulate gambling. This would inevitably tie into online gambling at some point, possibly following the lead of the Austrian government which has its own gambling website.
In Holland, the Holland Casino owns a monopoly over all legal gaming in the country. They have been trying to take it online, but have had a number of setbacks. They hope a new bill set to come out in the summer will revitalize their attempts. They have even made a deal already with the Crypto Network for software, in the chance that one day they will get their way. They were recently snubbed in a Dutch upper house legislation meeting, which blocked the Holland Casino attempts.