Channing Tops the European Rankings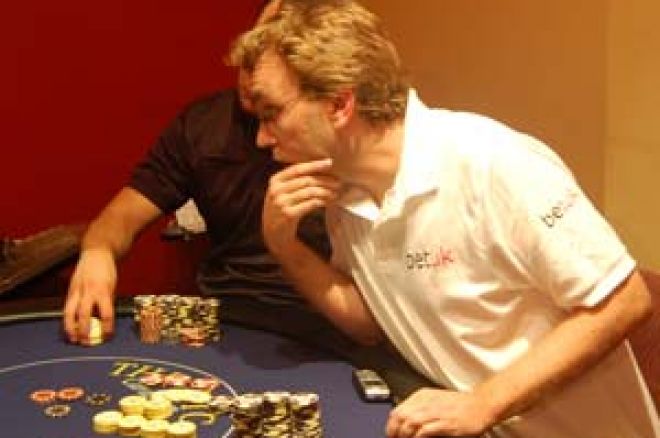 Irish Open Champion and former 'nearly man' of poker Neil Channing has leapfrogged to the top of the European Rankings. 'Bad Beat' is sitting at the top of the PokerinEurope leader board for 2008, the same people who bring you the European Poker Awards at the end of the year. The award was won last year by Andreas Krause of Germany, with Julian Thew being the highest placed Brit in 4th and Dave Colclough, Joesef Grech , Mazhar Nawab and Dave Smith all making the top ten, Channing finished 74th.
The award is based on finishing position, number of entrants and buy-in for all final tables of ranking European events. Not only did Channing win the biggest tournament so far this year in Europe, he also took second place in a GUKPT side event. Neil has been on a brilliant run of form ever since going deep in the WSOP Main Event last summer and made a number of high profile final tables. If he continues this run of form, he could be a legitimate contender for the title.
Just eaking into the top ten in joint 8th is Ketul Nathwani, the winner of GUKPT Victoria last month. It would be wrong to expect a relative rookie to make a huge claim on the European awards this year, however this does emphasise once again what a big difference the GUKPT is making to the European Poker Awards. The popularity of the events made them arguably the biggest series in Europe after the EPT and last year four GUKPT champions made it into the top ten, largely on the strength of the Grosvenor Casino tour.
Another UK player just outside of the top ten is Julian Thew, though we don't expect that for to be too long. The double GUKPT and EPT champion is, like Channing , enjoying an unbelievable run of form over the last 12 months. He has already won the GUKPT Brighton this year and also made the same side event final table that Channing found himself at. This could be a very interesting two horse race in the making between two of the most popular players on the circuit.
With the World Series of Poker Europe, EPT, GUKPT, GBPT and a whole host of other major tournaments on UK shores again this year, we are likely to see a great deal of British names in the top ten of the European Rankings again this year. Hopefully one of them will go one better this time round and bring the title back to Blighty!
No. of Events Ranking Points
1st Neil Channing (England) 2 3,900
2nd Mike McDonald (Canada) 1 3,300
2nd Michael Schulze (Germany) 1 3,300
2nd Tim Vance (USA) 1 3,300
5th Andreas Gulunay (Switzerland) 1 2,640
5th Ricardo Sousa (Portugal) 1 2,640
5th Soren Jensen (Denmark) 1 2,640
8th Ercan Atmaca (Germany) 2 2,400
8th Ketul Nathwani (England) 1 2,400
8th Donal Norton (Ireland) 1 2,400
Ed note: Rise to the top when you win the great guaranteed tournaments at Mansion Poker