Great Britain Wins PartyPoker Nations Cup | Daily Poker News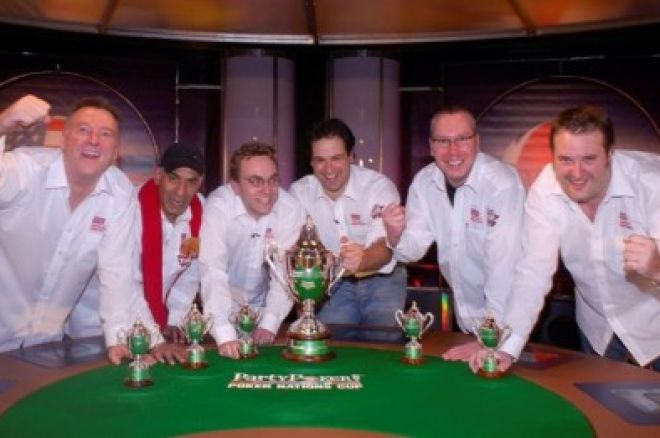 Great Britain Takes it Down!
Team Great Britain has won the 2008 Party Poker Nations Cup. The team consisted of poker superstars Roland de Wolfe, Neil Channing, Surinder Sunar, Joe Beevers and Ian Frazer. The team was rounded out by the Party Poker qualifier Charlie Durbin.
Great Britain won the title and $100k when Neil Channing beat out Team Ireland's Donnacha O'Dea heads-up. The tournament turning point between these two was when Channing shoved all-in with the lowly 8-4o, to get called by O'Dea's pocket deuces. The 4 fell on the river, cementing an insurmountable chip lead for Great Britain.
The race to the final was intense, with Germany, Holland, and Ireland all having strong showings in the heats, and therefore having nice stacks going into the final table.
The first team out was team U.S.A., who despite having an extremely strong team, were unable to get anything going. 2nd out was defending champs Sweden. Arguably the two strongest teams on paper and to the odds makers were surprisingly busted out early. The Germans busted out in 4th, and Marcel Luske's Team Holland played a valiant tournament, but fell out in third.
The Party Poker VIP qualifiers had an amazing time playing with so many of the world's best, and the atmosphere was unforgettable. The loudest cheers and fan section was the Irish, but unfortunately they couldn't bolster the team to first. Overall this tournament was an amazing success, and everyone is looking forward to this event next year!
Day 2 is Over, Day 3 Begins in Monte Carlo EPT Finale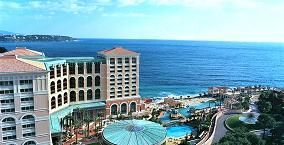 Today is Day 3 of the EPT Grand Finale at Monte Carlo. What started as a field of 842 entrants has been whittled down to 124 players to start today. This is the largest prize pool in European history, with first place being over 2 Million Euros! As the end draws near on Season 4 of the EPT, one can't help but be astonished at the growing popularity of poker in Europe, and can't even imagine how many players will participate next year. Kudos to the EPT organizers and staff for making the EPT such a success!
After the end of Day 2 the Norwegian contingent seemed to have a strong stranglehold on the event, as 4 of the top 5 chipleaders were from Norway. Pro player Oyind Riisem led the race with 441k chips at the start of Day 3. His Norwegian compatriot and feared online and live pro Johnny Lodden sat in 2nd with a healthy stack of 380k.
There were quite a few famous names left to start Day 3; Joe Hachem with 255k chips, Marcel Luske at 128k, and Antonio 'The Magician' Esfiandiari at 121k. This competition will be nothing but fierce, as everyone wants a piece of this huge prizepool. The quality of players left is obviously very high.
An interesting possibility with this tournament is that WSOP champion Joe Hachem might become the first player to win over $2 million in a tournament for the third time of his career. If anyone has the skill to pull this off, it is this man, having already showcased his amazing poker skills in the WPT and WSOP.
Here is what the top ten chip counts looked like at the start of Day 3:
Oyvind Riisem - 441400
Johnny Lodden - 380300
Borge Dypvik -296000
Andreas Hagen – 276800
Joe Hachem – 255300
James Campbell – 241700
Luca Pagano – 229000
Amit Makhija – 219100
Andreas Fluri – 205900
Sorel Mizzi – 203200
The INCREDIBLE Growth of EPT and Poker Through Europe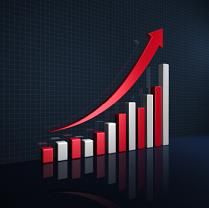 Season 4 of the EPT is coming to a close as the Monte Carlo Grand Finale winds down. The crazy news about this tournament is the biggest prize pool in the history of European Tournaments, with a whopping $3,198,500 dollars for first. This is an amazing amount of money to win in a poker tournament, and it is incredible how much more is at stake now than ever before. In Season 1, the Dutchman Rob Hollink took home $845,190 dollars for first place in this same event in Monte Carlo. The size of the EPT has more than tripled in the last three years! Poker has developed into a massive industry over the last few years, and is only looking up. Now is a great time to be a poker player!
Poker is a phenomenon that is sweeping Europe like no other sport could or ever has. The prizes at these poker tournaments are bigger than the money that athletes win in their respective sports, such as tennis or golf. This is obviously attractive to all walks of life. Who doesn't want the opportunity to win huge money, get themselves on TV, and become a poker legend? The best part is that one doesn't have to spend their entire life training to become good at it like most sports. Sure experience is invaluable, however a little bit of knowledge and a lot of luck is enough to propel anyone to victory. Just look at the Chris Moneymakers and Jamie Golds of the world. They both had enough intelligence and sense to not play horribly and they understood the fundamentals of poker. They also got very lucky, hitting every hand, but the point is this could happen to anyone! This is the beauty of poker tournaments.
The popularity of poker is increasing for many reasons besides the aforementioned selfish ones. Online Poker Rooms have been aggressively marketing poker to Europe ever since the UIGEA passed in the U.S.A. For those unfamiliar with the UIGEA, it is legislation to ban Americans from playing poker online. It stands for "Unlawful Internet Gaming Enforcement Act." These laws forced the hand of the big Online Rooms to turn their attention to the European market. Currently there are infinite satellites available for all EPT events on practically every Online Poker Room. This makes qualifying easy for anyone, since satellites run for as low as $0 in many rooms. It is possible and realistic for anyone to get a shot to play on the big stage.
Poker popularity is also steadily increasing as most countries in Europe have been part of the cultural renaissance that poker has undergone. It is common to see TV shows showcasing poker in different avenues. Be it 'Celebrity Poker' or big production movies like 'Lucky You,' it is clear that the popularity of poker is being successfully exploited and disseminated to the public. Poker has emerged from the dark back rooms and shady denizens formerly associated with the sport, and has exploded into a trendy and challenging game of skill.
Common knowledge of poker has never been higher. Most people understand that it is a card game, and that it is fun. The average person seems to know what hands are what, and even how to pull off a bluff. People that have been gamblers before poker are also taking poker in as their new choice of recreational activity; as it provides a better chance to win than any game where the house has an edge like blackjack or roulette.
The EPT has grown from 7 main events to 11 main events in the last few years. More cities and countries have become involved, and no end of growth is in sight. The TV broadcasts are shown in over 40 countries, making anyone determined enough to make it to the final table into a TV star. Looking at all the winners of the various events over the years shows how indicative TV exposure is to endorsement deals and fame. Many of these players were 'no-names' before the EPT. Now with season 5 of the EPT shaping up, and poker popularity rising in Europe, it is clear these tournaments will only get bigger and bigger.
Whoever takes down the $3M for first in this year's EPT Monte Carlo should be very proud of their accomplishment. They will have beaten the biggest field yet of the best players in the world. This event has shown the world where poker stands, and that it is here to stay.