EPT Grand Finale Won by Canadian Glen Chorny | EPT Season 4 Wrap Up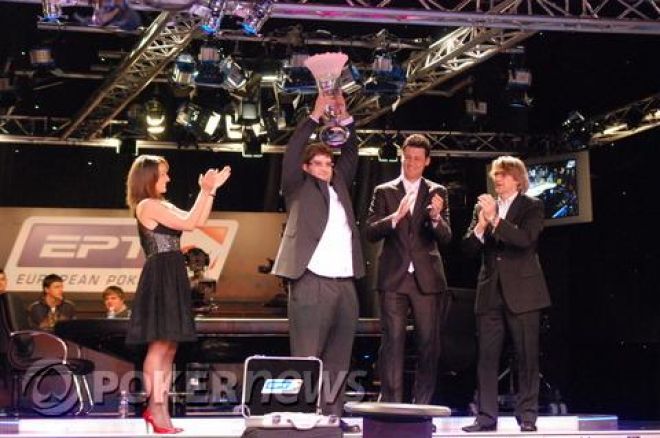 The European Poker Tour Grand Finale in Monte Carlo is completed. This has been the biggest tournament in the history of European poker, with first place being a stunning €2 Million. It took a staggering fourteen hours of play for the final ten to establish its winner: Canadian Glen Chorny. This is the first EPT win for the 22 year old native of Timmons Ontario, and he couldn't have picked a better time to crush a field of world class players in the most gigantic tourney in EPT history.
The final table was made up of an eclectic collection of different players from several countries. WSOP and WPT winner Antonio 'The Magician' Esfandiari was the most well known of players. He didn't last long however, coming in 8th when he shoved with a weak ace and got called by AJ. The weak ace didn't improve and he was out.
Three time EPT finalist Luca Pagano was the other notable representing the 'big names' of live tournament poker. He busted out in 6th, after blowing a huge stack of chips. Luca failed to hit when pushing all in with AJ in a confrontation with the mighty pocket QQ.
There were several hyped online players, most notably Isaac "westmenlowAA" Baron from America, widely regarded to be one of the best young online players around. Unfortunately for Isaac, 4th was as far as he could go. He eventually ran into aces and got busted out, but not before showing the world that he knows how to play.
The final three was made up of two Canadians, Glen Chorny and Maxime Villemure, and Hungarian pro Denes Kalo. These three provided for an entertaining show of shorthanded deep stack poker for quite awhile before everything fell apart in a flash. First Kilo dumped half of his stack to Villemure, who proceeded to bust out to Chorny an instant later. The heads-up between Kalo and Chorny was more of a joke then a poker tournament since Chorny had him out-chipped somewhere in the tune of 10-1. The heads-up lasted all of two hands, when Chorny's A5 suited held up against Kalo's KQ, and voila Glen Chorny was the EPT Season 4 Grand Champion, and €2 Million richer.
Glen played a strong tourney and deservedly won. He played super-aggressive and hit so many of his hands. He was dealt Aces and Kings at all the right times, and claimed in the post interview that he played better than anyone, and bragged about pulling some major bluffs which we'll all have to wait to see when the episode airs on TV.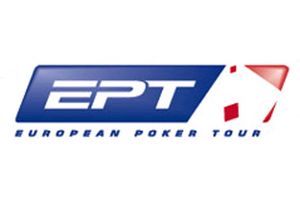 EPT Season 4 Wrap Up
Season 4 of the European Poker Tour has been the greatest success yet. With 11 cities to play the majors in, the participation has been at an all time high. Poker popularity is surging, with all the main events attracting more than 200 people, and some attracting over 800!
Here is a brief recap of the winners and sizes of the tournaments from Season 4.
EPT Barcelona Open was won by Danish Chess protégé Sander Lyloff. He outlasted 543 players to walk away with €1.1 Million.
EPT London attracted 500 players, and was won by a Lebanese gentleman by the name of Joseph Mouawad. He took home $1.2 million dollars!
EPT Baden, in Austria was taken down by well known and respected British Tourney player Julian Thew. Julian beat out 282 players to win €670k for first.
EPT Dublin attracted 221 players, and was won by American Reuben Peters who took home over half a million Euros.
EPT Prague was won by a backgammon master by the name of Arnaud Mattern. He played brilliant poker beating out 555 other players and cashing for €708k.
EPT PCA is the PokerStars signature tournament in the Bahamas. It brought 1,136 players and was won by famous Starcraft turned Poker prodigy Bertrand "Elky" Grospellier. First place was $2 Million Dollars!
EPT German Open brought 411 players to the tables, and was won by Canadian Mike Mcdonald to the tune of €933k.
EPT Scandinavian Open. 460 players anted up buy-ins for this tournament, with Tim Vance of the USA taking it down for €830k.
EPT Polish Open had 359 entries. First was a juicy €609k, and was won by Michael Schulze, a stock trader from Germany.
EPT San Remo in the beautiful Italian sunshine was won by American Jason Mercier for €869k. This event had a whopping 701 entrants!
EPT Monte Carlo Grand Final. This was the biggest tournament in European poker history, and attracted 842 entrants! First was an amazing €2 Million Euros, and was won by young Canadian Glen Chorny.
Overall it is obvious that this season of the EPT was an incredible success. Bigger prize pools, and more entrants than ever. PokerNews would like to extend huge congratulations to all the winners and players that participated in EPT Season 4! We can't wait for Season 5 to start!