EPT Grand Finale in Monte Carlo Day Three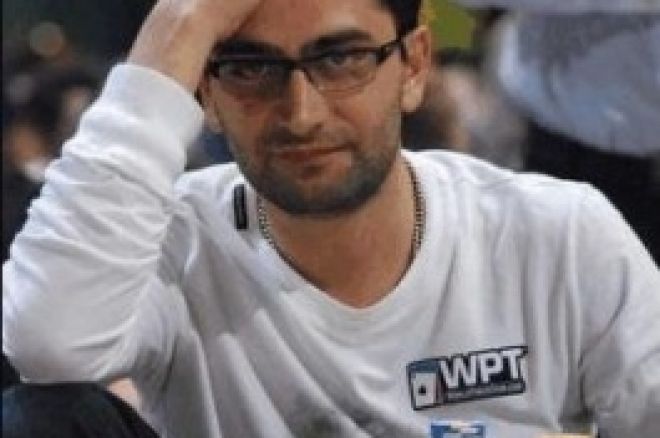 EPT Grand Finale Monte Carlo Day 3!
The biggest news in Europe right now is the ever shrinking field playing in the EPT Grand Finale in Monte Carlo. Play began on Day 3 with 124 players, with the intention of stopping when the field was down to the last 40 players. There were some pretty notable and strange events that took place over the course of the day.
First off is the bubble story. No one likes finishing as bubble-boy, but the runners in the Grand Finale took this to a whole new level. The hand for hand bubble play took over two hours! The bubble finally burst when Surinder Sunar was the unlucky one to have his pocket jacks snapped off by king queen suited. With the bubble safely behind them the players got to enjoy dinner 'in the money.'
The biggest pot of the day was between Antonio 'The Magician' Esfandiari and Gordon Vayo. They ended up getting $680k in tournament chips in the middle preflop, which Antonio won when his pocket aces beat the pocket kings of his opponent. Antonio Esfandiari went on to become the chip leader as the day closed down with almost $1.2M in chips. He is in a bid to win his third major title, and has claim a win not only the WPT, and the WSOP but the EPT also. With his skills, don't be surprised if he takes this down.

The biggest drama of the day was between Joe Hachem and a player named Woody Deck. They were at the same table, and Woody took exception to a hand that didn't involve but that Hachem had lost. Hachem mucked his hand when he saw he was no good, and Woody demanded to see those cards. One could expect this from a grandmother at a $4-$8 limit game, so obviously Joe got really mad about having Woody swear at him and ask to see his cards in combination with losing such a huge pot. Security and Antonio Esfandiari had to intervene to stop Hachem from throwing some kangaroo style punches in Woody's direction. This kind of thing is unusual in Main Events, so it had the room buzzing for hours. Deck busted before the day was through, and Joe Hachem almost busted. Hachem got all in with jacks versus sevens, only to see the dreaded seven on the flop. Thankfully the turn bailed him out when he re-spiked his jack to double up nicely. With the double-up Hachem moved safely on to the final 39!
The heartwarming story of the day is how Luca Pagano and his father Claudio have both made the money. This is the first time a father son combo has made it this far in an EPT Main Event. Luca also managed to make it into the money for an amazing ninth time in a row! Way to go Luca!
When all was said and done of Day 3, there were 39 players left. These 39 are going to do battle on Day 4 until only 8 remain. The chip counts look like this at the end of day three:
Name Chips
Antonio Esfandiari 1,198,000
Robin Keston 916,000
Denes Kalo 642,000
Johnny Lodden 623,000
Maxime Villemure 600,000
Mostafa Belkhayate 523,000
Gerasimos Deres 494,500
Henrik Gwinner 487,000
David Shade Kruger 486,500
Thomas Boekhoff 465,000
Rami Boukai 425,000
Eric Liu 398,000
Noah Siegel 388,500
Stig Top Rasmussen 373,000
Glen Chorny 344,000
Oyvind Riisem 340,000
Pablo Ubierna 316,000
Peter Traply 300,500
Valeriy Ilikyan 295,000
Claudio Pagano 291,000
Jonathan Dwek 282,000
Luca Pagano 279,500
Amit Makhija 269,500
Miara David 249,500
Isaac Baron 236,500
Joe Hachem 214,500
Michael Martin 141,500
Freddy Deeb 140,500
Alexander Morozov 133,000
Raymond Rahme 133,000
Walid Bou Habib 127,500
Benjamin Sprengers 127,000
Anders Berg 124,000
Andrew Luetchford 116,000
Vincent Secher 92,500
Anthony Chatelain 83,500
Tomas Brolin 74,000
Andreas Fluri 61,000
Stefan Geim 58,000
Check out the live coverage of the EPT Grand finale Monte Carlo for all the news and events as they happen on Day 4 of the EPT Grand Finale in Monte Carlo.