'Pokerfecta' Chopped at Betfair Poker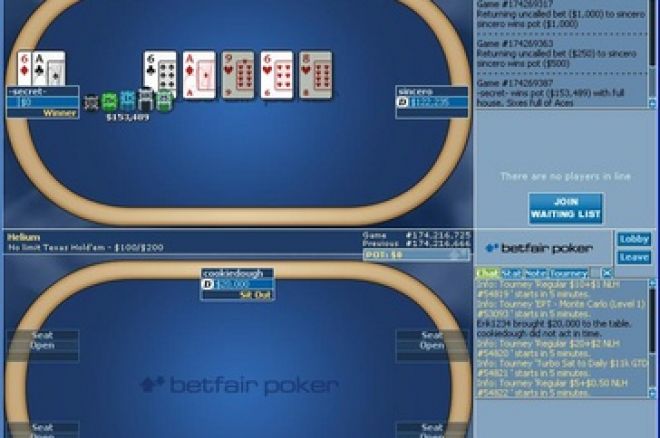 As Betfair Poker is the home of the world's best online MTT player, Annette 'Annette_15' Obrestad, it is clearly a poker room that expects perfection. Winning the occasional MTT here and there simply isn't good enough, to really knock on the door of greatness you have to win the 'Pokerfecta'.
Pokerfecta is a new promotion from Betfair Poker aimed at Multi Table Tournament players. A rolling jackpot of $5000 is started and has $1000 added to it every week. The winner is anyone who can pull off the feat of winning three MTTs in a week. If you think that sounds easy, think again, it took seven weeks to crown the first Pokerfecta winner, and then two came along at once.
The $11,000 jackpot was split between Hedger43 and JONBUCHAN last week. Hedger43 took down the $1000 Super Turbo Guaranteed twice and the $600 Guaranteed Turbo. JONBUCHAN won the $1000 Guaranteed Super Turbo three times in one week to score his $5,500 of the prize money.
Hedger43 actually won 4 tournaments in all last week, so he really is one to watch for the future, he commented; "I was delighted to win once I'd won the first two tournaments, however was gutted when I heard I had to share it – fair play to JONBUCHAN though, he deserves it! If he wants to go heads-up for the other 5.5 I'm up for it!"
The Pokerfecta has restarted with a prize of $5000 on offer and $1000 more every month. This is a really good value reason to shift your MTT game over to Betfair Poker and play along Annette Obrestad and Sorel Mizzi. Another great reason is because they are giving away 50 seats to the WSOP worth $16,000 with VIP treatment while you are out there. It is also the only place to go for exclusive satellites to the World Series of Poker Europe in London.
If tournaments are not your thing, Betfair Poker is also a high raking cash players dream. Not only do you get a $1000 sign up bonus when sign up with Pokernews using bonus code BF1000, but they are one of the few poker rooms to have a cash game leader board, where monthly prizes of up to $3000 are given to the players that play and win the most hands at the cash tables.
So sign up today and whether it is counting your chips at the cash tables, or going for 1st place in the tournaments, always be aiming for perfection at Betfair Poker .