Bounty Hold'em Room Takes You to the PokerNews Cup!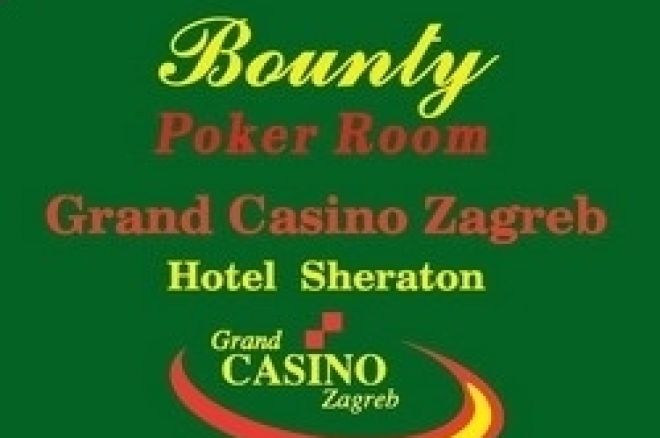 It's been less than a month since the grand opening of the Bounty Holdem Club in Zagreb and in the short period of time, the poker manager at the Grand Casino, Mr Vlado Skobić, together with the employees at the Club, has succeeded in organising poker events even many of the acknowledged Poker Rooms would envy him for.
On the opening night the Bounty Tournament had taken place and numerous valuable prizes had been awarded; the Bounty Poker Club offers players a wide variety of weekly tournaments, including cash games at a variety of limits…
yuPokerNews has been with the Bounty Hold'em Club right from the start, and as a result of a fruitful collaboration, we announce a real poker treat - a super satellite for the PokerNews Cup Austria.
The PokerNews Cup Austria will take place from April 23rd to 27th at the Concord Card Casino, in a lively town of Salzburg and will give European people an opportunity to compete in this fabulous tournament.
More than 300 players from all parts of Europe are expected to participate in the Main Event, so why don't you join too?
Bounty Hold'em Club offers you a chance to prove your poker skills in the PokerNews Cup Satellites, which are going to be held on April 11th and 12th, 2008.
Grand Casino Zagreb and Bounty Hold'em Club (Sheraton) made sure that the 10 most successful and most loyal players get 10 tickets to the PokerNews Cup Main Event.
The organiser of this magnificent event is Tony G, and there is going to be quite a few of the world's most recognised poker professionals who have already proven themselves at countless poker tables.
Each player who wins a Bounty bonus or some of the money prizes at the regular Bounty Tournaments brings to this SUPER SATELLITE additional 1.000 Tournament points for every prize won.
Information: Vlado Skobić +385913377900 (afternoons), Bounty Holdem Club, yuPokerNews.
http://yu.pokernews.com/ ">yuPokerNews: Visit Bounty Holdem Club and you might win an entry to the PokerNews Cup in Austria. For information about the special PokerNews Cup Freerolls, visit our PokerNews Cup Austria Freeroll website!!!