Purple is the Colour, Poker is the Game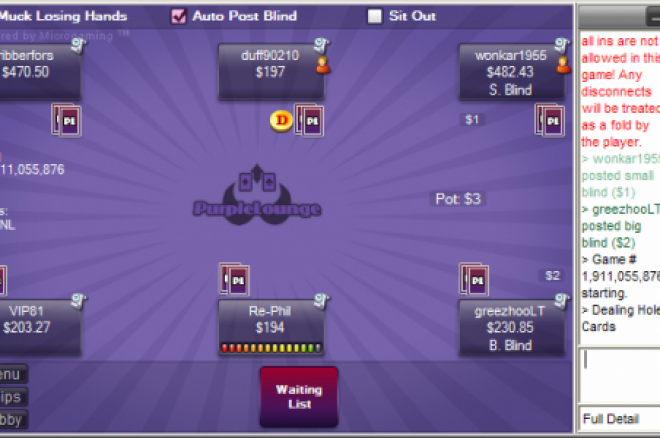 Purple is a colour that doesn't seem to go well with most trends and fashions, the potential to appear like a big bruise is hardly going to attract a potential mate any time soon. However, Purple is a colour that could well be adorning your desktop monitor, as top poker room Purple Lounge Poker have announced some major software upgrades.
First of all there is a new instant hand replayer that allows you to view what your opponents were holding in any pot that was called at the river. It might not be good etiquette to ask to see them in a live game, but it should be practiced liberally online as you build up a profile on the fish at your table.
You can also add a personal touch with the new customer avatar options. Now you can upload a picture of yourself, your dog or just whichever member of Girls Aloud you pine over at night. This is all enhanced by some new animations and sound effects, but if this is effecting your play you can just turn them off.
Finally and most exciting, the tables are now re-sizable and also have a 'mini-view' option. You can either re-size the standard tables or shrink them down to 'mini-view', which displays the bare minimum of information.Now you can stack up a small army of tables on that big screen monitor and play more hands in an evening than most of us do in a year.
All those extra tables will help you on your way to winning the 'mad dash for cash' – a regular monthly rake race with up to $8000 for first place and 49 other prizes between $6000-100. They will also help you clear your exclusive Pokernews bonus up to $1000 in double quick time, when you sign up to Purple Lounge Poker with us.
Add on top of this a monthly $20,000 'Deep Purple' free roll and the future looks very bright, the future looks Purple.