Rui Barros Wins Solverde Festival 2008 #4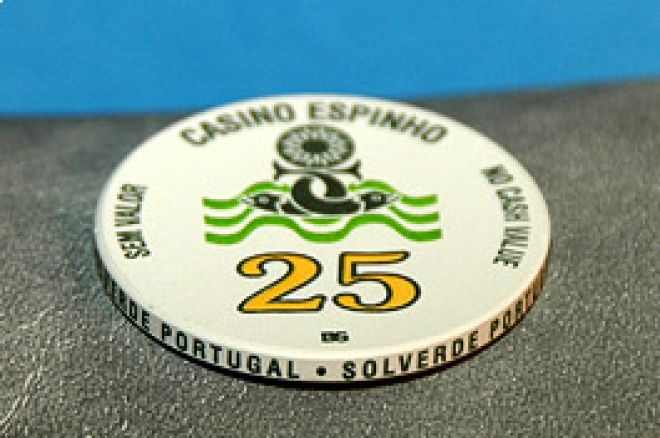 220 players started the Solverde Season 2008 #4, a €200 + €20 Freezeout tournament played at Casino Solverde in Espinho, Portugal.
With 8,000 starting chips, this tournament got close to being the best structure in Hold'em Poker Tournament played in Portugal.
We hope one day it will be possible to organise in Portugal a tournament with the same structures from the big poker events from around the world.
From the 220 starting players, only 20 would reach Day 2, and all in the Money.
Final table:
Miguel Gomes Tonequim 493500
André English Andre_683 230000
Diogo Silva PapaPT 170000
Nuno Coelho Zumy 164500
Diogo Costa Diegoplayer 143000
Sergio Fernandes SERGIOFER 133500
Pedro Carrega LuckyLuso 132000
Helder Roque BBLisboa 113000
Fernando Vieira BebeVieira 91000
Rui Barros Binbarek 49500
Heads Up was played between Pedro Carrega and Rui Barros.
On the last hand, Pedro Carrega raised with


, Rui re-raise all in with


and Pedro call. The flop, turn and river brought no help





, and the €9,420 reserved for the Champion and the trophy went to Rui Barros.
Final Results:
1. Rui Barros €9,420
2. Pedro Carrega €6,672
3. Miguel Gomes €4,710
4. Fernando Vieira €3,532
5. €2,747 Diogo Costa
6. €2159 André English
7. €1766 Hélder Roque
8. Sérgio Fenandes 1374 €
9. Nuno Coelho 1177 €
10. Diogo Silva 981 €
11. Rui Ferreira 471 €
12. Luis Andre 471 €
13. Nuno Marinho 471 €
14. Francisco Machado 471 €
15. Hugo Félix 471 €
16. Fernando Martins 471 €
17. Jacinto Franco 471 €
18. Daniel Ferreira 471 €
19. José Cerqueira 471 €
20. Hugo Vinagre 471 €
Next Stage of Solverde Season 2008 will be #5 and will take place from April 4th until 6th in Vilamoura, Algarve.
And you can take part in this tournament if you play the satellites at https://pt.pokernews.com/everest-poker Everest Poker every Wednesday at 21:30 Everest Time.