Poker Godfathers Unite! – Part 1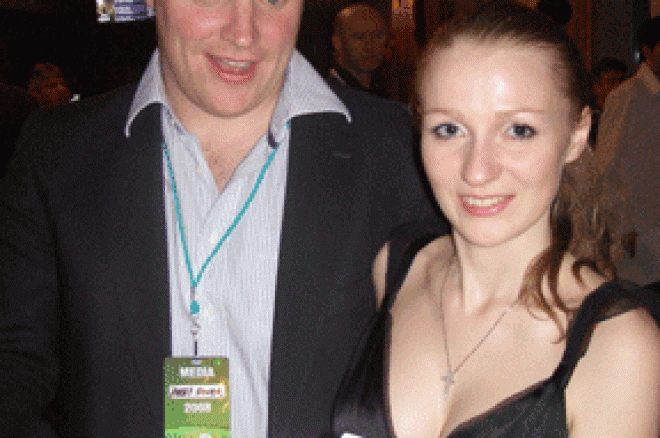 The Irish Open is not just another poker event, it is an experience, a taste of Ireland as smooth as the black stuff itself. This is poker's alternate to St Patrick's day, and in ways almost as spiritual, but above all an occasion to sample why the "Paddies" are loved the world over.
Vegas may well be the Mecca of Poker but it can be as cold as ice. In comparison, Irish poker smoulders with a welcoming global difference. Playing poker in Ireland is as much fun as you can have with your trousers on, that's if you don't lose 'em whilst playing the deceptive and fearless jokers of poker. If you have been deadened by the bright lights of say London and its many depressed souls, stepping into a land where smiling, joking and honesty are a part of daily life might just give you the reason to fall in love with the Emerald Isle and it's people.
Godfather Power
Flood, Furlong, Parkinson, O'Dea and Smurfit are some of the elder statesmen of Irish Poker. Andy Black along with a host of others are getting the Paddies out there. "Paddy Power", a Sportsbook and Betting brand led by the ever-smiling 32-year-old called Paddy Power, both are household names in the UK and beyond. Paddy is without doubt the present Godfather of Irish Poker and probably one of the world's most famous Irishmen. These titles were inherited through the exciting and almost mythical history behind Paddy Power, Irish Poker and The Open.
The second I received an invite to play the Paddy Power Media Event, I was on the "dog" (Dog and Bone = Phone) to the man himself. Paddy, the open and accessible face of Paddy Power, would certainly accept the offer of a little side action around the Open. "Catman, please do bring the Catgirl, I am up for a head's up game, we will discuss the stakes when you get here, it sounds like great fun." It is sometimes nice to know whom you are dealing with.
Taking a cab from Moscow airport can be a fearsome adventure into the unknown, taking a cab from Dublin Airport will also provide you with a lesson or two. My driver on this day taught me that Ireland was made up of 32 Counties, 6 in Northern Ireland. Ireland looks like a Kerry Blue Dog on the map, Dubliners speak a form of cockney and that he could sing like a screaming banshee. Thirty entertaining minutes later we arrive at City West Hotel in Saggart, County Dublin, where the inner wealth of Ireland hits you square in the chops. The car park is complemented by two Hotel Courtesy Rolls Royce Silver Phantom's and boasts no less than 4 huge choppers (winged variety) in close proximity.
If you haven't played cash poker with the Irish, you simply have not lived. The fables of millions lost and won in the farmers' home games were abound long before TV poker. Venture into the legendary 100 Euro Omaha "Our Game" at Dublin's Fitzwilliam Club on a Friday and see how long 10k will last. This game is like no other. They make the game and they make people enjoy it. An Irish drives position under the gun. There is a lot of money in Ireland, it's all in play and it isn't dead that is for sure.
Texas Dolly
It was the eve of the 2008 Irish Open as we booked in; the rookie pro player, Catgirl, let out a scream as loud as any Russian may dare, "Doyle is here!" Parked in a leather winged chair was the mighty man himself, his presence filling the room. Doyle Brunson is the Mohammed Ali/ Cassius Clay of the poker world, untouchable and a presence money can't buy. The Irish Open had now received a very special approval. The Godfather of Poker had come to offer his blessings, albeit for the second time.
Doyle does have a very special tie to the Irish open and in fact had played the event in the early 80's. We went over to pay homage to the mighty man: "Hi Catman, thanks, I got the pictures of Catgirl and me, I am only in Europe for the Irish and then back to a big game in Vegas." said the smiling Texan icon.
The Open was the baby of the original Irish Poker Godfather, Terry Rogers, the owner of the aptly named Eccentric Club, a charitable organisation where it all began. Terry was a bookmaker by trade and was a man befriended by the likes of Benny Binion, Doyle Brunson and Johnny Moss. During a trip to Las Vegas with fellow bookmaker and poker pro Liam Flood, he learnt of the American love for the Irish blarney, allowing him to clear up by making a book on the WSOP.
Alas, the boys in blue didn't agree so they became the first men to be jailed in Las Vegas for gambling. Rogers then brought over all his American friends including Stu Ungar, Amarillo slim, Puggy Pearson and Tom McEvoy to play with their Irish cousins, in what officially became the Irish Open in 1983.
Terry was a showman, he would pick guests up from the airport in a Yellow Rolls Royce and had Amarillo Slim ride out of Dublin on a white horse. If only there was a horse now as I am sure Doyle would have looked great on it this time around.
Poker faces were spread out in abandon, the now customary game of Chinese "De Wolfe" Poker taking place around the heaving lobby bar. The air was very special, there was an aroma of occasion, a stench that something special was about to happen, and the 'Craic' was 90 (the best). The media launch was set for 7pm so the Catgirl and I sauntered along to meet the Big Man for our very special 'Heads Up' game and chat.
Paddy Heads Up[/B]
Just like meeting Doyle Brunson any time, meeting Paddy is a special event, for unlike most of the people you meet in poker, Paddy will always be happy and give you 100%. He will fill you with energy and relax you at the same time. This man could charm the pants off a jockey (female jockey obviously) and back on by way of smile alone.
"How did it all start?" I asked the legendary Paddy; "My family has been in the bookies business since the 1890's. In 1980, the betting tax was halved, there was an invasion of English bookmakers into Ireland and we were "fecked" ("fecked" is a socially acceptable variant of the Irish duck). My father formed a company with three other bookies to fight off the invaders. Power was the family name and we used the name "Paddy" in solidarity against the English. Thankfully I shared that name. My son is Paddy Junior of course!"
There has always been a powerful rivalry between the Irish and English over every occasion that you can battle over, but it seemed that gambling is something Paddy has ensured that Ireland will keep hold of.
"Catman, I will tell you the secret of our success; gambling is in the Irish blood. What we did at Paddy Power was to make it fun and we never try and sell the lie. We say throw a tenner at it and buy some entertainment. Everyone knows the odds are stacked in our favour so, if it is not fun, it is not worthwhile. It is as simple as that."
Catman is Europe's leading Poker Agent and is back with Part 2 on UK Poker News very soon