Introducing: PaySafeCard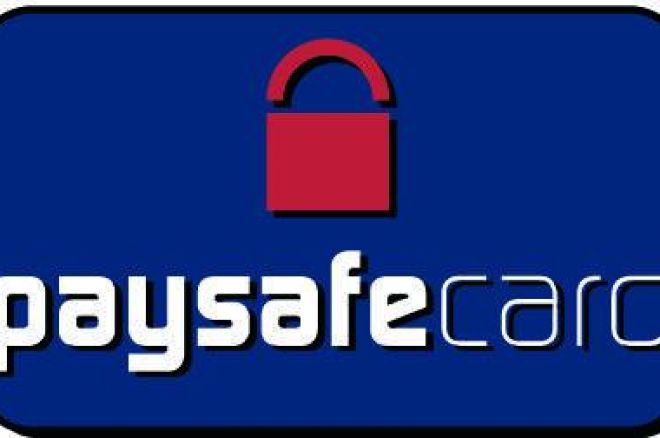 Here at UK Pokernews we like to get behind new and innovative enterprises in the landscape of online poker, which is why we are pleased to tell you about paysafecard. You may have noticed several news items recently about problems faced by online payment processors and fear of fraud in online poker; well paysafecard seems to have an answer to those problems.
It works much in the same way as a pay-as-you-go mobile phone top-up except that you use it for online purchases instead. You can get a paysafecard with cash in any of over 18,000 participating stores in the UK and then shop online and deposit in a wide array of online card rooms. No longer do you have to wait for money to be approved, security details to be checked or just the inevitable processing time taken for financial transactions to get your money into your poker account.
paysafecard is a secure and simple alternative to credit cards. This is beneficial, especially to poker players, because if you have a load of cash to hand from a live game you can easily transfer it to an online poker account in the time it takes to nip to your local shop. The other clear benefit is that you are completely safe from online fraud – no further money can be taken other than what has been deposited and your personal details are not in any way disclosed.
Don't forget as well that paysafecard can be used to purchase anything you want online at a range of online stores, music websites and lotteries. You can even use it to purchases overseas items in a different currency, with current conversion rates available on the paysafecard website.
The cards are available in £10,£25,£50 or £75 denominations and you enter the 16 digit pin code when purchasing online and that's it, you have paid. At no point to do you have to divulge any personal or banking information and you can even elect to have a secure password on your paysafecard for extra piece of mind.
It is still relatively new so not all shop staff know how to process a paysafecard, but you can help them. Just print out this sheet (http://www.paysafecard.com/fileadmin/psc/content/shared/pinprint/uk_pinprint.pdf) and hand it to the shopkeeper to follow the instructions. Alternatively select "E-MONEY" > "MORE" and "paysafecard UK" on the paypoint terminal touch screen.
We are pleased to say that all the major online poker rooms accept paysafecard to receive funds online, including Pokerstars, Full Tilt Poker, Party Poker and Titan Poker. So don't worry about your online security anymore and play today using real cash with paysafecard.