PartyPoker Nations Cup Returns!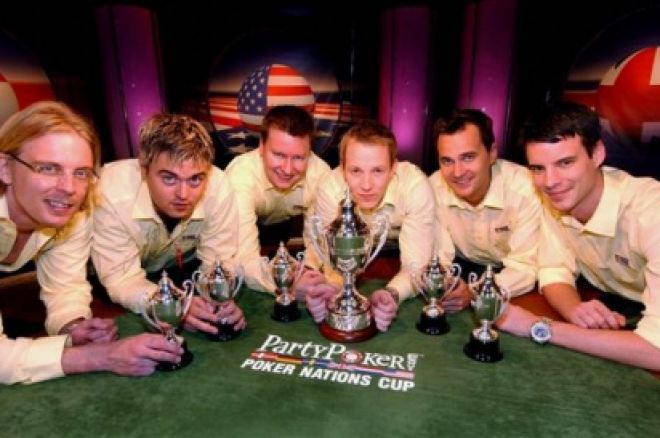 PartyPoker are once again pioneering the TV poker market, with the news today that the PartyPoker Nations Cup is back. Between 7th-10th of April, teams from Great Britain, Ireland, Sweden, Holland and the United States will be competing for $100,000 and much more important, International bragging rights.
Each team is assembled of five or that countries finest poker professionals and one VIP qualifier. Over six heats each representative will prove their worth and then compete in a 'tag' final, where the final chip counts will depend on the league standings from the heats.
The British team is captained by Roland De Wolfe and is an incredibly strong and in-form one, with Poker Million champion Joe Beevers, Irish Open Champion Neil Channing, TV table specialist Ian Frazer and WPT champion Surinder Sunar. We may be incredibly biased here at UK Pokernews but we believe it could be team GBs year, hopefully aided by online qualifier Francis Durbin. PartyBets.com make Sweden 3/1 favourites to win again with the USA second favourites at 7/2, Great Britain at 9/2, Ireland at 5/1, Germany at 6/1 and Holland the outsiders at 13/2.
Ireland make a welcome return to the competition and are captained by legend Padraig Parkinson, joined by fellow Irish poker giant Donnacha O'Dea, 2007 Irish Open winner Marty Smith, WSOP bracelet holder Ciaran O'Leary and 2007 PartyPoker European Open champion Liam Flood. Darren O'Brien joins the team as the qualifier. Both teams will have an uphill struggle to beat defending champions Sweden, once again captained by Bo Sehlstedt.
A PartyPoker spokesman said: "The array of talent on display for the 2008 PartyPoker Poker Nations Cup is brilliant. Sweden have to be favourites to retain their title as their line-up of pros is unchanged and are used to the format and they are arguably strengthened by their online qualifier representative. That said, the USA will take some stopping with the likes of Gold, Ferguson Deeb and Brown on board while Great Britain boasts so many form players in their team. Ireland is a bit of a wildcard but there is little doubt that they have strength in depth in their side while Germany appear much stronger than previous years. The Dutch side led by Marcel have to be seen as the underdogs – the names don't jump out as much at you as they do with the other line-ups."
The teams line up as follows:
GREAT BRITAIN
Roland de Wolfe (Capt.)
Joe Beevers
Ian Frazer
Surinder Sunar
Neil Channing
Francis Durbin - qualifier
GERMANY
Michael Keiner (Capt.)
Andreas Krause
Benjamin Kang
Sebastian Ruthenberg
Thomas Bihl
Thomas Potzel - qualifier
HOLLAND
Marcel Luske (Capt.)
Thierry Van den Berg
TBC
Eric Van der Berg
Daan Ruiter
Quirijn Van der Peet - qualifier
IRELAND
Padraig Parkinson (Capt.)
Donnacha O'Dea
Ciaran O'Leary
Liam Flood
Marty Smith
Darren O'Brien - qualifier
SWEDEN
Bo Sehlstedt (Capt.)
Anders Henriksson
Mats Rahmn
Johan Storakers
William Thorsson
Johan Ocklind - qualifier
USA
Robert Williamson III (Capt.)
Jamie Gold
Chris Ferguson
Freddy Deeb
Chad Brown
Montel Williams – Celebrity Player