No Bad Beats for Channing - The New Irish Poker Open Champion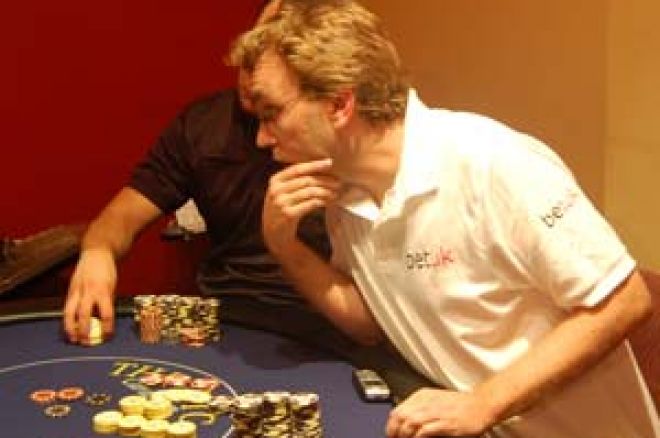 The Paddy Power Poker Irish Open is without doubt one of the most prestigious tournaments in Europe. Not only is it one of the biggest, most fun and richest in the World, it also has a tendency to bring great fortune to its winner. Previous winners have gone on to great things including Joe Beevers, Liam Flood, Noel Furlong and last year's Marty Smyth.
So it is very fitting that the 2008 champion is a man many believe has been destined for great things in the last few years, Neil Channing. Until yesterday, Channing was regarded by many to be the best player in the UK without a major title to his name. Last year he came close on numerous occasions including a deep run in the WSOP Main Event and final tables in GBPT and GUKPT events. Despite taking down a 1st place spot in a GUKPT side event last year, it was clear a major title was still in his sights.
The field was smaller this year (667 down from 706) but the buy-in was higher and €200,000 added by Paddy Power Poker ensured a massive pot of gold at the end of the rainbow. The field was awash with local and international talent, with Doyle and Todd Brunson flying over to join the Devilfish, Andy Black and Roland De Wolfe for the bank holiday poker-fest.
Strong performances by Irish legend Padraig Parkinson and last year's 3rd place finisher Sorel Mizzi were scuppered towards the end of the penultimate day, as Channing went on one of the best runs of his career. By the time we were down to the TV final table, he was well over the million mark and held nearly half the chips in play.
Seat 1: Neil Channing — 2,748,000
Seat 2: Tim Blake — 912,000
Seat 3: Kai Danilo Paulsen — 716,000
Seat 4: Thomas Dunwoodie — 544,000
Seat 5: Edwin Tournier — 562,000
Seat 6: Donal Norton — 1,164,000
Channing appeared to pick up where he left off on the final day, after losing Edwin Tournier almost immediately; Neil turned a straight against the top pair of Kai Danilo Paulsen, sending him packing. He soon found himself pot committed after stealing with Q-6 and spiking a Queen against the K-J of Tim Blake, giving him an even more commanding stack at the table. The luck of the Irish was clearly with Channing, as he soon found himself hitting a three outer with A-7 against the very short stacked Thomas Dunwoodie holding A-8.
No deal was done at the final table as Channing took on local favourite Donal Norton. It wasn't the gruelling rollercoaster ride between Roland De Wolfe and Marty Smyth from last year, as the dominant Channing outdrew the 5-5 of Norton with his A-9 and the title and €801,400 was his.
Neil 'Badbeat' Channing is another success story for the nice guys in poker, a regular fixture in the big cash games at the Vic in London, he has concentrated on tournaments a great deal more in the last year and proven he is one of the top players in the UK. A former bookie, he knows a good bet when he sees one and promptly wagered an undisclosed sum on himself to win this event at 100-1, as if the €800,000 wasn't enough of a big payday.
Final Table Payouts

1st Neil Channing — €801,400
2nd Donal Norton — €420,000
3rd Thomas Dunwoodie — €544,000
4th Tim Blake — €220,000
5th Kai Danilo Paulsen — €175,000
6th Edwin Tournier -– 135,000
Ed note: Win huge online tournaments when you join Everest Poker