Late Night Poker Final Table Complete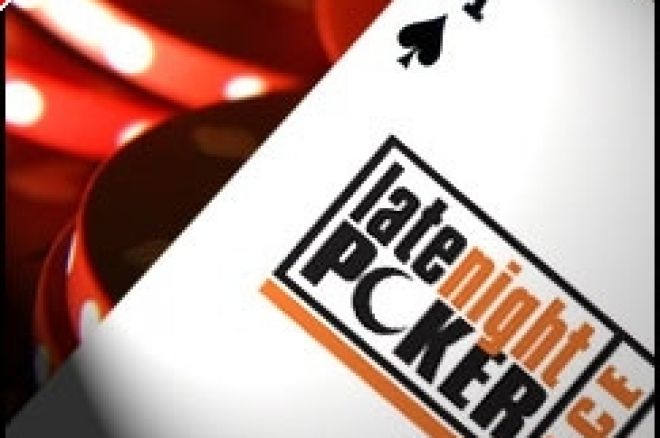 The finale for the return of the Party Poker Late Night Poker 2008 has been finalised. Last night Maria Demetriou overcame one of the toughest tables in the competition so far to book her seat in the final. This was in the runners up heat which featured Pras Banzi, Marc Goodwin, Pascale Perrault and Marcel Luske, whom Maria beat heads up to win the heat.
Late Night Poker has a tendency to make stars of anyone who gets to the finale, but in this instance the stars are already there. The preliminary heats were very well organised to ensure what is a very mouth watering final. It's a mix of old school, new school, unknowns, megastars and up and coming talent.
Surinder Sunar is proudly representing the Old Guard, making his third appearance at the final of Late Night Poker. This will be his third shot at the title which he must feel is long overdue. Joining him is German bracelet winner Eddy Scharf and Swedish online qualifier Andreas Jorbeck.
Two men that represent the new school of poker are Rolande De Wolfe and Andy Black. Both men are arguably the two most successful since the original Late Night Poker went off the air and will probably go into the final joint favorites. Black has the form, having just won his first major title on the TV format Party Poker Premier League. De Wolfe has also impressed recently with his performances in TV shootout formats.
There are two dark horses in this final; one of them has to be the best value bet for the title in the form of Ian Frazer. Frazer is well known for being one of the best players in the televised 6 handed shootout format and has wins and final tables in most of the big UK TV tournaments.
He may go into this as an underdog, but he shouldn't be. David Tighe is not a familiar name to most, but he is actually the last Late Night Poker winner, when he won the Late Night Poker Masters in 2006. The attention may be on the other players but this is the man defending the title.
Tune it to channel 4 next week to see who is crowned the champion of the Party Poker Late Night Poker 2008 and watch a little history in the making.
Late Night Poker Final Table
Ian Frazer
Eddy Scharf
Roland De Wolfe
Andreas Jorbeck
David Tighe
Surinder Sunar
Andy Black
Maria Demetriou
Ed note: Become an online poker star when you play at PartyPoker