Neil Channing the Huge Chip Leader as Irish Open Nears Conclusion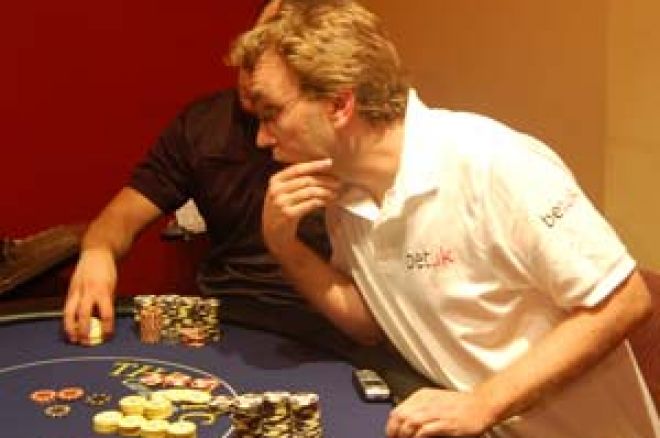 One of the biggest tournaments in Europe has reached the final six, with one of the most in form players in the UK within earshot of his first major title. 667 players made the trip to Dublin for the Irish Open, now the final table is down to six with one of the biggest prize pools in European history left to fight for. €200,000 was added by the good people at Paddy Power Poker which means that a first prize of €801,400 is on the table for one player who has the luck of the Irish today.
The man in the spotlight is one of the most prolific players in the UK of the last 12 months, Neil 'Bad Beat' Channing. A cash game regular at the legendary Vic in London, Channing went on a tear last year that saw him go deep in the WSOP and make numerous final tables in the GUKPT and GBPT. He was, however, to fall short every time and miss out on a major title that he is almost certainly due.
But he is certainly in the driving seat this time around and he holds nearly half the chips in play, more than triple that of his nearest rival. He built his stack during a long grueling day that saw last year's finalist Sorel Mizzi and Surinder Sunar narrowly missing out on the final table. Channing is way over the 2 million mark and the final table starts again today looking like this:

Seat 1 Neil Channing — 2,742,000
Seat 2 Carsten John — 340,000
Seat 3 Tim Blake — 825,000
Seat 6 Kai Danilo Paulsen — 658,000
Seat 7 Thomas Dunwoodie — 872,000
Seat 8 Edwin Tournier — 514,000
Seat 9 Donal Norton — 691,000
All eyes will be on Channing today as many expect him to finally win a major title that has been evading him for so long. He is one of the nice guys of poker and been a great ambassador for UK poker and a victory would not be undeserved. Keep an eye out too for UK players Tim Blake and Thomas Dunwoodie who are his nearest rivals in the chip stakes and could well be bringing the title back home to Blighty.
A massive €801,400 awaits todays winner. Good luck to all the finalists.