Ketul Nathwani Wins the GUKPT: London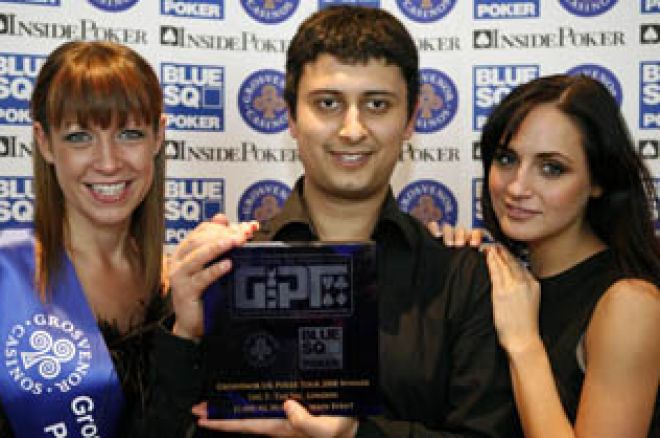 A sell out on both day ones ensured that the GUKPT London Victoria will likely be one of the biggest tournaments in the UK this year, with 424 players (24 of which were alternates) hoping for a shot at a life changing pay day. Yours truly was there and regrettably just adding to the £119,780 first prize which was taken down by online pro Ketul Nathwani.
Some of the biggest names in the UK turned out for this event, which was held at the home of the UK cash game, the Victoria Casino in London. Dave 'Devilfish' Ulliott, Liam Flood, Vicky Coren, John Kalmar and Tony Cascarino were all in attendance. Also there was ex-England striker Teddy Sheringham whom I was lucky enough to play against and was desperately trying to get him back for a goal he scored which knocked my beloved Sheffield Wednesday from the Carling Cup!
Most of the big names fell by the wayside on their respective day ones, leaving some of the UK circuit regulars and new breed of players contest the £424,000 prize pool. The best known face at the final table was clearly Late Night Poker finalist Maria Demetriou (the final of which is being shown this week). Demetriou was helped to the final table when she won one of the sickest hands ever seen on the tour, she held pocket kings, against pocket queens, against pocket aces, against the other two pocket aces. A queen flopped but a king came on the river and she took down a 4 way all in.
The final table started like this:
Seat 1: Dan Samson – 666,000
Seat 2: Steve Jelinek – 441,000
Seat 3: Maria Demetriou – 364,000
Seat 4: Fran Efan – 145,000
Seat 5: Lloyd Rees – 328,000
Seat 6: Tony Phillips – 458,000
Seat 7: David Rudling – 571,000
Seat 8: Colin Kennedy – 349,000
Seat 9: Ketul Nathwani – 984,000
Tony Phillips took the chip lead from Nathwani early on when he doubled up on him, but wasn't able to do anything with it and soon Dan Sampson, David Rudling and Nathwani would take it back from him. David Rudling eliminated Colin Kennedy early and Phillips did the same to Lloyd Rees.
Three eliminations came in quick succession, Fran Egan, a fearless Irishman who I had been playing with for most of day one, bluffed all in on a draw against the two-pair of Phillips. Steve Jelinek and Demetriou soon followed, at the hands of Nathwani who was beginning to gather momentum.
Nathwani went onto eliminate David Rudling in 4th and Dan Sampson in 3rd, the latter losing the classic coinflip when his tens were outdrawn by Nathwani's Ace-Jack. This gave Nathwani a 9-1 chip lead over Tony Phillips and between them, the two youngsters had despatched of pretty much the entire final table. An epic battle it was not, when Phillips was forced to move all in with ace-two right away and was quickly called by the pocket fives of Nathwani, which held up and gave the young internet pro the title.
Nathwani, an online pro from the UK, had previously had a deep finish in the 2007 WSOP as well as qualifying for a seat on this years Late Night Poker. This is his first major live result in the UK and we will no doubt see him at the next leg, which takes place in Manchester next month.
Final Table Payouts
1. Ketul Nathwani £119,780
2. Tony Phillips £69,960
3. Dan Sampson £50,880
4. David Rudling £33,920
5. Maria Demetriou £26,500
6. Steve Jelinek £20,140
7. Fran Egan £15,900
8. Lloyd Rees £12,720
9. Colin Kennedy £9,540
Pictures provided by GUKPT and Quentin Kozma