Simone Thomalla wins the Pro7 Pokernight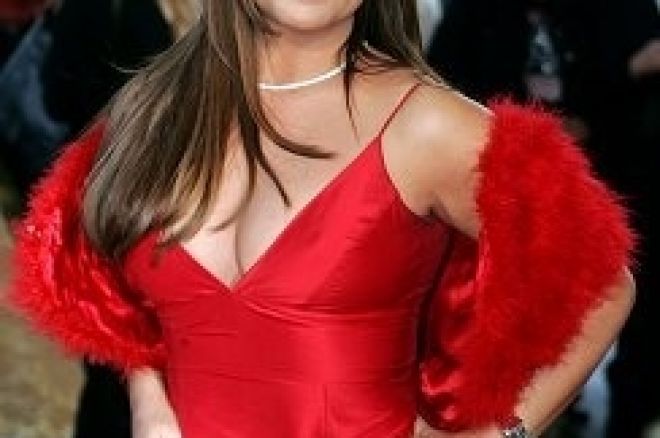 For the first time in the history of the show a woman wins the €50,000 first prize – the actress Simone Thomalla.
"I can't believe it. I guess it takes me a while to digest that", said Simone and goes down in the Pro7 poker history.
Claus Schreier came in second and received €20,000. "Now, buying a new car is not an issue anymore", he said afterwards.
This TV Total Pokerstars.de Nacht on Pro7 was a special program.
For the first time the players had to wear heart rate monitors which obviously slowed down the action of Stefan Raab, Elton, showmaster Kai Pflaume, actress Simone Thomalla, comedian Kaya Yanar and online qualifier Claus Schreier.
Here are the highlights:
Elton seemed to be a little bit scared and soon became the shortstack. He had to leave the table first and pushed all in without even looking at his cards. Stefan called and after a sweat on the flop, turn and river he had to enter the losers lounge first to join the commentators Michael Körner und Oliver Welke.
Next up was Kai Pflaume. He seemed not too familiar with the rules of poker and folded several times when he was the big blind despite having the option to check. Oliver Welke commented that his plays were rather "unusual". In Kai's last hand he actually did everything quite well, though. Online qualifier Claus Schreier went all in with


and Pflaume called with


. Simone Thomalla thought for a while and called the action with


. The flop came



and it was a

on the turn raising the hopes for Schreier. The river did not improve Kai's Hand. While Schreier won the main pot and Simone Thomalla raked in the side pot, Kai Pflaume had to join Elton on the couch.
Claus Schreier gained a lot of confidence and soon afterwards Stefan Raab was his next victim. Raab went all in with


and this time the customer service representative of a brewery woke up with a real hand (


). No help for Raab on the board and the show's host had to leave to the rails.
Kaya Yanar placed third after joking "Come on, send me home" and his wish was granted. Tomalla had


, the comedian showed


. It was



on the flop and after the

turns Kaya Yanar was drawing dead.
Simone Tomalla was lucky during the heads up. Holding


against Claus Schreier's


it did not look too good. After the flop of



she was trailing against Claus' top pair but managed to turn an open ended straight draw with the

. On the river the draw materialized and Simone Thomalla emerged the first woman to win the Pro7 Pokernacht. Congratulations!