Jean Reno in Vienna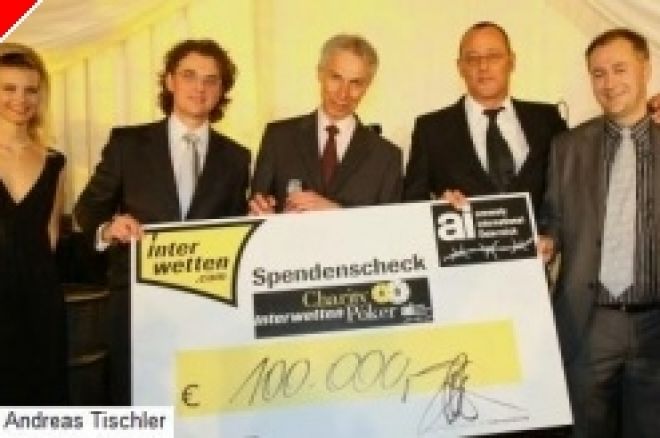 On 12/03/08 Jean Reno was the guest of honour of the "Interwetten Charity Poker" tournament.
The final table started with eight online qualifiers and everyone waited anxiously for Jean Reno to join the game. Not only the players on the tables were excited but also a lot of poker fans at home as the final table was broadcasted live on the Internet, commented by Matt Schuh and Rober Seeger (Marketing Manager of Interwetten).
The online qualifiers came from all over Europe – from Germany to Greece.
The Frenchman Julien Meurisse won the tournament and received a ticket to the EPT in Monte Carlo.
The basic idea was a charity event and the net profit was donated to Amnesty International. Every online qualifier had to buy in for €15.00.
After the tournament a big gala was held downtown Vienna in the "Palais Niederösterreich" where the cheque was handed over to general secretary of Amnesty International Austria, Heinz Patzelt.
A lot of celebrities showed up to see Jean Reno in person. Cool as always he drove up in a Bentley. Thomas Daubek – CEO of Interwetten AG – was happy to add the total amout up to €100,000. The cheque was solemnly handed over by Jean Reno.
During the gala there was poker, too. Two tables were set up and every party guest could try their luck.
Besides Jean Reno as international guest of honour, singer Valerie Sajdik was the evening's main act. She became famous with the project "Saint Privat" but has been solo for some years now.
Apart from all charity and poker passion, it was Jean Reno who illuminated the gala event.