A Three-Way Chop at GBPT Edinburgh but Wu Claims the Honours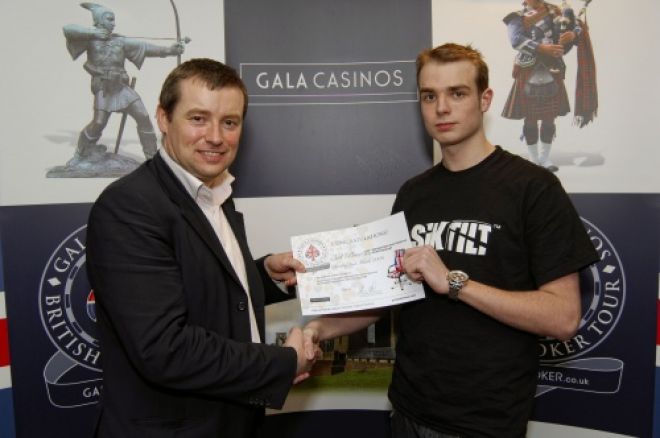 The first leg of the Gala kicked off with a bang last weekend in Edinburgh, as plenty of Celtic poker hopefuls descended on the Scottish capital. With much more flexibility for places this time round, 175 players made the journey across two day ones, proving that this £500 rival to the GUKPT is gaining lots of momentum.
Amongst the attendees were defending champion Eddie Gaines, Hendon Mobsters Barny Boatman and Joe Beevers as well as Scottish snooker legend John Higgins, who made an impressive deep run to prove once again that snooker and poker are for some reason distant cousins. Higgins finished on the final table bubble in 10th place leaving the remaining players to fight it out for the £93,000 prize pool:

Richard Lapwood 557,100
Colin Wu 310,200
R. Mathews 254,600
Robin Yiltalo 210,500
P. Scott 114,300
M. Greenwood 104,200
John Lynch 93,100
A. Findlay 55,600
Jamie Coonan 46,800

Findlay, Greenwood and Lynch all fell early in the first hour of the final table leaving the big stacks to take each other on. The chips were moving around the table evenly, almost to a stalemate until Colin Wu crippled former chip leader Richard Lapwood. The table had been knocking lumps out of Lapwoods monster stack all night and Wu got all his money in the middle with King-Jack against the dominating Ace-King of Lapwood, only to spike a jack on the flop and the end was near for Lapwood.
In the early hours of the morning after playing each other to a standstill, the final three men, Wu, Robin Yiltalo and internet whizz Rory Mathews decided to make a deal. All three men took home £20,500 with Wu being crowned the champion on account of his chip lead. Wu also took the free seat into the GBPT grand final at the end of the year for his troubles.
The GBPT has made a cracking start to 2008 and the next leg is in a place which is slowly becoming the new capital of UK poker, Nottingham. Expect a potentially bigger turnout for this one starting on April 16th as most of the UK circuit know the directions there by now. The final table of the Edinburgh leg paid out as follows:

1 Colin Wu £20,500
2 Robin Yiltalo £20,500
3 Rory Mathews £20,500
4 Philip Scott £7,300
5 Richard Lapwood £5,100
6 Jamie Coonan £3,250
7 John Lynch £2,800
8 Mark Greenwood £2,300
9 Alistair Findlay £1,850

Ed note: Hit the big tournament tables online at Pokerstars