UK PokerNews Exclusive: Catman Talks to Sorel Mizzi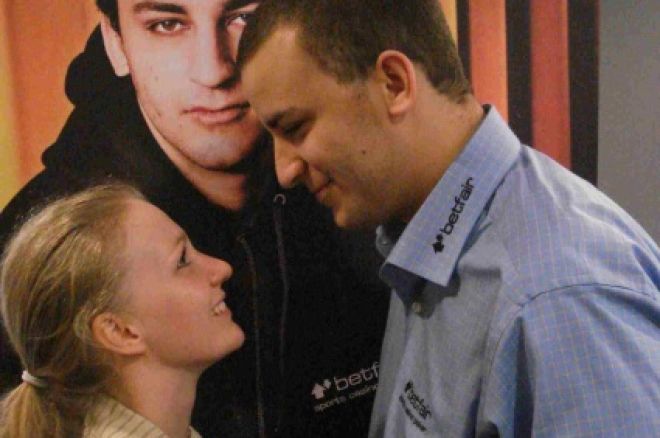 A USP is a term anyone seeking success must come to love and understand if they wish for a smooth ride in the vicious world of business. A Unique selling point makes a product stand out from all the rest and it is a term that Betfair has an understanding of more than most. First, they almost psychically sponsor Annette 15; just prior to her historical £1 million squid WSOP E main event win, at 18 years of age. Now Betfair have found the second member of their elite online team in the form of Sorel Mizzi alias 'Imper1um.' Sorel hit the headlines for playing online and winning an event on Full Tilt for another player, what a naughty boy he was. I won't go into this, Sorel will tell his own story on his Betfair blog. He was wrong, but after spending time with this man, he was either naïve or simply a brilliant actor.
Poker is a game of deception, and will always be, a naughty little game, so is smoking, drinking and sex. Sorel did commit a faux pas, but hey he was a professional poker player, 'was he pushed or did he fall?' A few years back I was offered ridiculous amounts of money to work as a bodyguard in a country where legally pulling the trigger for someone else would make you a hero. Business is business, and in terms of the very sick corrupt world we live in, Sorel's ventures do not warrant the bat of an eyelash. There are some that mean wrong and others that do wrong, sentence served and a fresh start begins.
It is rare, that I am inspired, but this Poker Rascal was would provide the perfect opponent for a quick 'Catgirl' training bout and the opportunity to win a fiver, in our head's up interview.
'Imper1um,' his main online nick meaning 'Empire', alias 'zangbezan24' was in town for three days, so I jumped at the opportunity to discover a little bit more about this new poker superstar. 'Superstar,' yes absolutely, in 2007 Sorel won over $615,000 Online and a mere $548,000 live including, 3rd in Paddy Power Irish Open ($280k), followed 2 weeks later by a 15th in the WPT Fifth Annual Five Star World Poker Classic ($154k). For dessert he enjoyed 3 WSOP cashes in his first year at the event, including 208th in the main event and a bubble in the $1k.
So what the hell else do you need to justify any company jumping to sponsor you? Most players play a lifetime and are down, but this kid pawned the online game after turning pro, went through a major online scandal, and then gains one of poker's most valuable sponsorships.
Let's go back to the USP's, think Phil Ivey the man is a pure enigma, so full of uniqueness I want to bottle him and sell this magical persona. Two weeks ago Phil was being bad mouthed across the forums for allegedly nipping for a few bucks, during one of his nightly high stake soirees, bada bing, he has just won $1.5 million ? How dare I compare a young upstart like Sorel to Phil Ivey! Sorel has the magic, he is part of the new breed of developed online players, that like Annette 15, can win so consistently and big online, and then go off and in the space of no time win big live. These are the next generation of Poker Legends.
The game was on and I escorted the Catgirl to meet Poker's Bad Boy, expecting some kind of bling bling, ex gang member type.
Standing by a 7-foot banner photo of 'Imer1um,' the big man walks in, a very healthy 6 foot 3 or so. As the Catgirl's Agent/Manager I let the big guy know the score, " It's Heads UP for a Five, Ok with you Sorel," I said with my usual serious air about me, " Is that Five Hundred." "Yes, £500 for you against our Fiver," exclaimed the Catgirl with her talons drawn. Out came the table and the game was on, up and coming high stakes 22 year old stunning Russian pro 'Catgirl,' two year poker veteran high stakes live cash player, versus 21 year old 'Imper1um,' 2 year pro and ranked number one online player worldwide by Pocket Fives and others.
So how did it all begin?
"I started in the last year of high school, but before that I had played 5 card draw and video poker with my parents. When I just turned 18yrs I started playing Hold'em during lunch break, in the cafeteria, home games. I was other wise fairly good at school, just not particularly focused. I liked sport mainly, especially Volley Ball.
Following that I went to Real Estate School, did the first two phases, which were the toughest and left. I knew I wanted to be a pro poker player and I believe I could make a living from the game."
The kid was softly spoken and very, very polite, where was the Gangsta Wrap, I was expecting from this Canadian from Toronto, Ontario. Was poker big in Canada, what were his influences?
"Poker is big in Canada, same as the States, just not as many per capita. I suppose the film 'Rounder's' inspired me indirectly. I had never seen it, but my friends spoke a lot about it
I did just find out Danny Negreanu went to the same school as me. Well way before me but we did have the same teacher. Gavin Smith, Greg, Matt, we all hope to get out there and get the Americans. There isn't any animosity apart from them saying "Aboot," when I say 'About."
ROUND ONE CATGIRL TAKES A BEATING
By this time the game was on, 600 chips a piece with blinds at 25/25, of course Imper1um was on home ground and playing his first big game in London since competing in last years WSOP Europe. Can you believe it, Imper1um had the button and checks the first hand, flop comes Q77, Catgirl bets, and Imper1um calls. Turn comes a 3, Catgirl checks, Imper1um bets, Catgirl calls. The River a 5, Catgirl bets, Imper1um goes all in, Catgirl calls, Imper1um show his 7/10 off beating the Catgirl's 7/9. Bingo, first game to Imper1um, in this first to two, wins the fiver.
The point is, no matter what the stakes are, the game is the same, we all want to win and Sorel alas Imper1um is now one of life's big winners. I have always said poker is the new Formula One, but the chances of gaining a sponsored pro seat, are proportionally way slimmer.
If anyone could answer the golden question then this was the man. What are you key tips to players seeking sponsorship?
"
1- Have a good image
2- I know Annette. It's about who you know
3- Success, online and live.
I've been friend's with Annette since Aruba, gone up the rankings, we talk a lot about hands. Annette put in a good word for me, she also said great things about Betfair. I had a number of options open to me after winning Titans $200k. Titan were interested, then I picked up the option of working with Betfair."
The answers are honest and open, but it's not just who you know, it's what you can offer. How did you develop your game to the level it is, I enquired?
"In the early day, I had some good scores and was motivated. I won $50,000 with a 1st, 1st and 2nd on Party. I quickly lost it playing high stakes limit, I recovered and rebuilt my bankroll. I used MSN, copied and pasted my hands, interesting hands and spammed for opinons, gathered them and then made my own opinion. No books, no videos, I thought I was doing so well why spoil it."
Any Mentor's:
"Josh Field (alias JJProdigy) was my mentor, he helped motivate me and was a huge force to me, and I respected him. He taught me the basics in the early days. With these I got desire and quite a journey followed."
What's your poison Sorel, the last pro I asked this question to was Gus Hansen, who replied "Pussy." Had he lost much online?
"Limit Hold em is my poison and high stakes side games, $20-$400, $300-$600 NL. Benyamine has took some from me, then there was a German Guy too, I lost around $200,000 or so. Now I am playing good games on Betfair, with some really soft players. $50-$100, $100- $200. I haven't yet played so much."
Again, I like the man's style, what were his win expectations: " I am looking for around $35k a week."
The 'Head Up' game was still on, Catgirl and Imper1um seated face to Face at the end of a full size table, this was as big a game as any. The flop came J38, the Catgirl goes for a check raise with her J garbage, and Sorel goes all in. At this point the alleged Agent is screwing Imper1um out more then the Catgirl. Having just read Phil Hellmuth and Joe Navaro's 'Read em and Weep,' I was kind enough to let Imper1um know he had leaned forward into his hand, along with the Holly wooding Head down and eye brow furrowing, as he lured the Catgirl in and took down the pot and second game with his set of 3's. Who am I to advise a player who has moved from on line to an immediate live success, just hope he remembers me. The Catgirl is tense, but finally she has relaxed and a rematch is on, another best out of 3 game begins.
At this point the Catgirl intervenes to conduct her psychology teat, devised and conducted by school kids, but it often sheds some interesting data:
Catgirl asks: What is your favourite animal, and three things you like about it?
" A Monkey, it's mischievous, cute and unique."
Catgirl's Interpretation: This is how Sorel sees himself.
What is your second favourite animal and why?
Sorel: " A Tiger, my symbol in the Chinese Calendar. It's ferocious and Ruthless."
Catgirl's Interpretation: This is how Sorel sees a future partner.
The Catgirl then enquires if Sorel has a girlfriend, is he spiritual:
" No girlfriends, I used to study Martial Arts. I will warm up to a poker event, with some unique meditation, clear my thoughts, nothing more."
I cut the Catgirl short here, I just don't want to know about Sorel's sex life, he is simply a nice guy and time is running out in the poker game.
What was the Maestro's key tips to success in poker?
Key Tips
1- Be a student of the game
2- Evolve with the game
3- Learn and Experiment with new strategies
4- Do not be afraid of what people think.
The new game is being played simultaneously and the Catgirl has control, winning the first game of the second set, albeit with the 'Boots,' she is now smiling and confident, beating the world's number one SNG players has got to make sense.
"Sorry, Sorel has to move on now," exclaimed Betfair's new Pr Guru, Amy Trodd, as she pulled her now injured player of the field of play. I protested strongly, but hey we had just stolen a valuable two hours, in what will be a hectic schedule from a player who will warrant serious respect, on and off line. The Catgirl has her Talons out, "I want a rematch, cancel his next interview this is more important," she demanded of her humble manager, but poker is a friendly game, isn't it. But, It was a fiver well spent, for most players a meeting with Sorel on the poker tables will be a tad more expensive.
Sorel Mizzi provided me with something, I rarely get in my sideline occupation as journalist and poker commentator: 'A breath of fresh air.' 'Imper1um' gave me his full attention, politeness and respect. Few poker pro's are unaffected by fame and fortune, think Joe Beevers, Phil H and Tony G. Well Phil and Tony might seem a little insane on the table, but in life, they are gentlemen. Sorel is a young man, whose maturation, will be worthy of keeping an eye on.
The surreal teaming of 'Imper1um' with 'Annette_15' is no naïve move, Betfair's Head of Poker Bruce Stubbs said: "I honestly believe we have the two best tournament players in the world right now. There is a new world order, look out!"
Think about it, the man is totally bang on.
Catman is Europe's Leading Poker Agent