Balkan PokerNews Challenge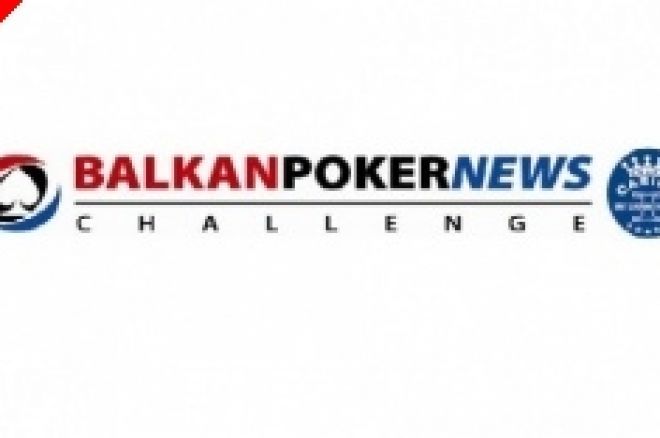 BG.PokerNews & Grand Hotel Casino International are pleased to announce the first ever poker festival to take place in Bulgaria, May 13-18 BALKANPOKERNEWS CHALLENGE.
Hosted by Grand Hotel Casino International in the Golden Sands Resort on the Black Sea shores, the event is sure to attract players from all over Europe, Russia and other countries. With the game popularity growing rapidly on the Balkans, Grand Casino International is starting a huge new campaign of raising live poker game popularity in Bulgaria and its neighbour countries, aiming to establish a high level annual live poker event, attracting more and more players, all over the globe.
With its very attractive structure, including two side events (NL Hold'em & PL Omaha), Super Satellites and Main Event, the festival guarantees tons of poker experiences and unforgettable moments in the beginning of Summer 2008.
It all starts with two side events, a €200 + 20 No-Limit Hold'em & €150 + 15 Pot Limit Omaha, which are expected to heat the atmosphere and the public for the Main Event, with a preceding €50 + 5 Super Satellite, for those willing to climb the mountain, taking every step in the way to their poker glory. In the end, it will be all decided in the €500 + 50 Main Event, which is about to produce the first ever Balkan Poker Champion.
Here's the actual event schedule:
Мay 13th €200 + 20 NO LIMIT HOLD'EM (2 DAY OPENING EVENT)
May 14th €150 + 15 POT LIMIT OMAHA + OPENING EVENT DAY 2 (FINAL TABLE)
May 15th €50 + 5 SUPER SATELLITE FOR THE MAIN EVENT
May 16th €500 + 50 NO LIMIT HOLD'EM – MAIN EVENT DAY 1
May 17th MAIN EVENT DAY 2
May 18th MAIN EVENT DAY 3 (FINAL TABLE)
All the events are deeply structured, with longer levels and lots of stating chips, with a decent chance for every player, trying to attack the Balkan poker fortress. BG.PokerNews is about to provide updates from the tournaments floor and all the attractive and entertaining moments around the tables. Bulgarian spectators will be able to follow the Main Event action live online, at bg.pokerwnews.com website, courtesy of our real time Live reporting feature.
The Main Event is going to be Live reported online in Russian and Hungarian as well, on the respective regional PokerNews websites. There will be video interviews, chip counts, leader board updates and comments on all the interesting hands along the tournament. Like every international event, this one makes no difference and is going to be conducted in English, to guarantee access to all players and to respect the common industry rules.
Main Event's final table will be televised and there will be a live
commentary throughout the play with busted players interviews and profiles. Pressure is higher under the spotlights and the crowd is sure to expect fierce poker battles and a lot of memorable moments. It will be very interesting to see players from different nationalities at the final table, while we all be very glad to have the first ever Balkan Poker Cup stay in Bulgaria.
There will be a lot of entertainment activities along the festival, with a chance for every busted player to take part in another event. So, don't forget your trunks, the sea is very close!!! There will be surprises, with lots of attraction and cool games for everyone decided to start their poker summer on the Bulgarian Seaside.
Good Luck!