Andreas Jorbeck Beats Host of Stars to Win Late Night Poker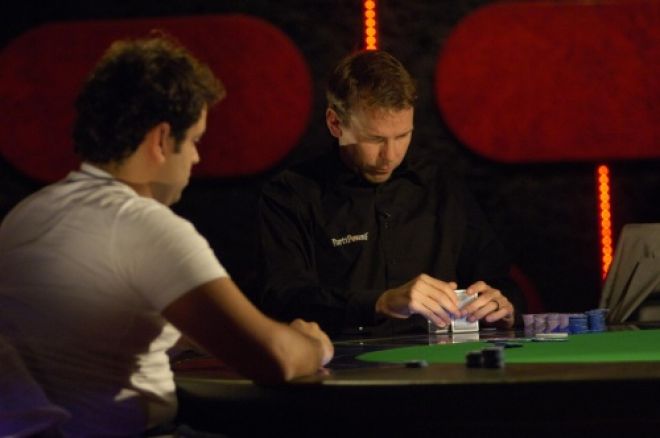 The return of the show that started it all, Late Night Poker, has ended with a suitable representation of the modern game. Amongst a sea of old school pros and rising talent, an unknown online qualifier from Sweden has taken the spoils. Andreas Jorbeck was the only unknown quantity at what was one of the toughest final tables we are likely to see this year; however he managed to overcome the odds and snag himself $125,000 and the trophy.
He was also probably the least recognisable player from this series in and of itself, simply because his passage to the final was one of the easiest. He won his heat at a particularly crazy table when amateur (and we mean that literally) player Agnieszka Rylik went on a massive tear, eliminating everyone from the table but giving it all back to Jorbeck in the heads up match. He humbly remarked at the time "I didn't have a difficult decision to make at any stage of the game, she did it all for me".
But nothing could prepare him for a table that included Andy Black, Ian Frazer, Roland De Wolfe and Surinder Sunar. This was one hell of a tough table and Jorbeck was really up against it when he found himself three handed against the pre game favourites of Andy Black and Roland De Wolfe. The chip leader Black was to make an unfortunately timed steal with Ace-two when Jorbeck woke up with pocket Jacks, the WSOP final table star was pot committed and then crippled when the fishhooks held up.
With Black out of the way, Jorbeck went on to grind down Roland De Wolfe, always catching a better piece of the flop than the EPT and WPT champion, eventually De Wolfe made a move on a 6-10-10 board with king high, but Jorbeck called with A-10 and survived the river to take the trophy. An elated and modest Jorbeck commented "I won't let this go to my head and say I'm a pro, I'm a competitor and am pleased to have out manoeuvred some of the best in the game, I'm very happy".
Final Table Payouts
1. Andreas Jorbeck $125,000
2. Roland De Wolfe $75,000
3. Andy Black $50,000
4. Surinder Sunar $30,000
5. David Tighe $20,000
6. Eddy Scarf $12,500
7. Ian Frazer $10,000
8. Maria Demetriou $7,500
Ed note: Late Night Poker is sponsored by PartyPoker join today and qualify for prestigious events online!