UKPN Feature: Poker Player Prop Bets - Amarillo 'Slim' Preston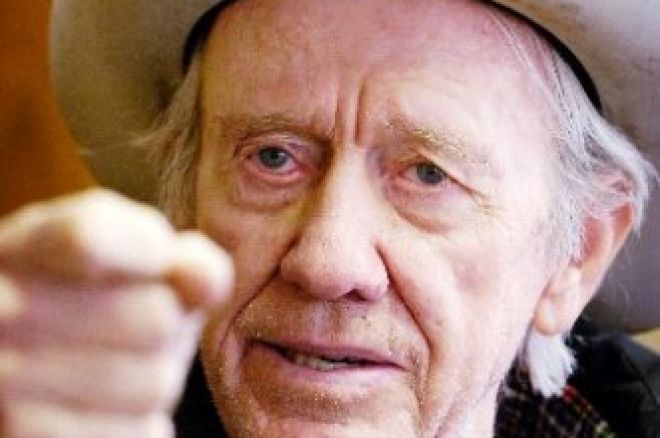 The last few editions of poker prop bets have included a few of the young guns of 'stupid wagering'. The online millionaires, with more money than sense, who are probably throwing cash at ridiculous bets because they don't know what to do with it! But, as crazy as the new breed get, they simply cannot lace the boots of one man who is without doubt the undisputed king of prop bets:
Amarillo 'Slim' Preston.
The World Series of Poker Champion was a legend of the game, but probably more famous for the crazy wagers he would take....and win. Slims ethos was that he didn't want to find the sucker; he wanted to find the champion and make a sucker out of him. He made his marks believe it was impossible for him to win his wagers, when in fact the odds were always in his favour:
Slim vs Seabiscuit
Seabiscuit, the champion thoroughbred race horse, was so fast and legendary that it inspired an Oscar nominated movie of the same name. You wouldn't bet against Seabiscuit against a superfast horse on steroids, but if you are wise you would probably bet against him when matched up with the gangly Amarillo Slim.
When Slim proclaimed he could beat Seabiscuit in a hundred yard dash, most punters assumed he had finally lost his mind, and queued up to take his money. The only condition was that Slim picked the track. "Nobody said it was a 100 yard straight line" Slim recalled, as he set a course of 50 yards one way and 50 yards the same way back.
Naturally Seabiscuit left him for dust for the first 50 yards, but built up such momentum that it was difficult for him to stop and turn round. By the time the jockey had halted his horse, calmed it down and turned it around for the home stretch, Slim was already back at the finish line.
Slim vs the County Club
Golf Country Clubs are usually frequented by people with money, so it was no surprise to see Mr Preston in one of them, persuading them to part with their cash. This time, Slim bet that he could drive a golf ball a distance of a mile in one shot. A standard golf ball, using a country club driver they picked for him. Once he had racked up thousand dollars of wagers he got in his car and beckoned everyone to follow him.
He took all the golfers miles away from the country club to a frozen lake at a deserted lot. He casually placed the ball on a tee and whacked it into oblivion, as it bounced and slid across the ice to well over a mile in the distance.
Slim vs the Blind Bowler
This story highlights the preparation Slim would put into his prop bets. He managed to take a $20,000 bet that a professional bowler couldn't bowl over 70 with a blind fold on. The proud bowler accepted but was unable to bowl over 70 and Slim won the bet. Next a cocky poker player takes the same bet, instead this time claiming he could bowl over 50 – Slim wins again and the bowler even throws the ball through a plate glass window.
In walks Slims driver, whom he claims can bowl over 70 blindfolded. What chance does he have when these two top bowlers can't bowl anything like 70? He amazingly won the bet and neglected to tell them that his 'driver' whom they blindfolded, had actually been blind all his life!
If you like these stories, we'll have even more Amarillo Slim tales in the next edition of Prop Bets, including the legendary game of table tennis using cola bottles.
Ed note: Make some sensible poker bets at Everest Poker this weekend