UKPN Feature: Poker Player Prop Bets - Amarillo 'Slim' Preston, Part 2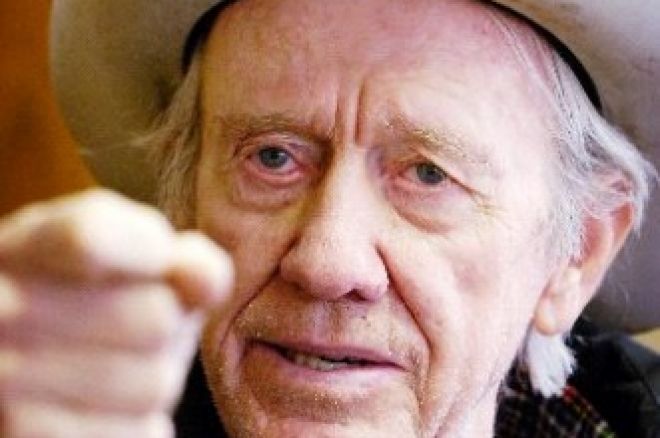 One section simply wasn't enough for the greatest proposition gambler of all time. Amarillo Slim stories could fill up this entire website for the rest of the year. I'd advise anyone to buy his autobiography, but in the meantime here are some more classic Slim stories:
Slim vs the Sign Post
Slim spent a lot of time on the road, travelling to poker games and hustling along the way. One night he left his group of friends, travelled miles away from their motel and dug up a road sign to the following village. He drove the 10 mile sign 5 miles down the road and replanted it.
The next morning he was driving with his partners to the said village and when they were approaching the replanted road sign, Slim casually pointed to it and said "That village is ten minutes away......bet you I can make it in five".
Slim vs Bobby Riggs
Slim's great ethos was to make a sucker out of champion, and this is a perfect example. Former Wimbledon champion Bobby Riggs was challenged to a high stakes game of table tennis by Slim. The only condition was that Slim was allowed to pick what both men used for rackets. An unusual request that Riggs accepted.
You see Slim had been practicing for months to play table tennis with frying pans, which he produced for the match. As good as Riggs was at tennis he simply wasn't able to adapt well enough to beat the frying pan aficionado known as Amarillo Slim.
Slim vs the Table Tennis Champion
Naturally the story of Amarillo Slim and the frying pans became and instant legend, something which he decided to use to his advantage. All the time he was getting offers to play table tennis for high stakes thereafter. Wise old owl that Slim was, he knew full well that people had been training using frying pans hoping he would become a victim of his own hustle.
Slim waited until there was so much interest that he could cross book hundreds of thousands of dollars. He accepted a bet from a consortium of people that their guy could beat him at table tennis, on the condition that he could pick the rackets. Thinking they would pull the wool over his eyes they presented a Korean table tennis champion (who had been practising with frying pans for 6 months and would surely beat Slim).
Instead of producing a pair of frying pans, Slim produced two empty coke bottles "The thin end is the paddle" he insisted. The table tennis champ had been practising with a racket with a huge surface area and Slim made him play with a racket with the tiniest possible surface area. Slim cruised to victory, as of course he had been practicing for months with a coke bottle!
Ed note: No hussles are required to clean up at the poker tables on Everest Poker