UKPN Feature: Poker Player Prop Bets Part 3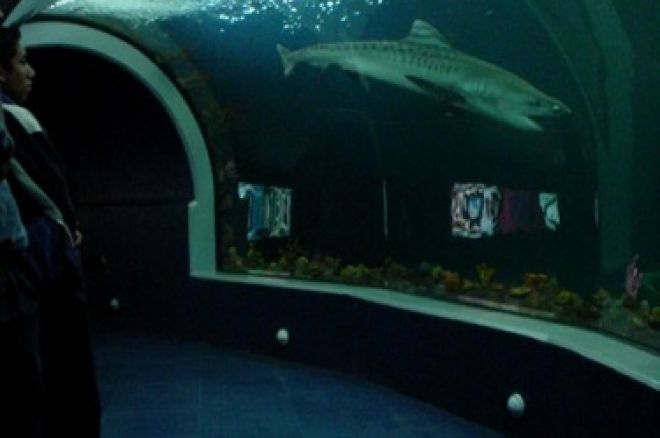 We return to our celebration of the poker prop bets in light of the recent news about one of the stupidest bets of all time. It seems anything the old guard can do, the internet kids can do better:
Thomas Dwan vs 2+2er vs the Shark Tank
Internet whizz Thomas 'Durr' Dwan recently had an open bet available to anyone foolish enough to jump into an eighteen feet shark tank, touch the bottom and swim up again. The $5000 prop was taken up by a 2+2 forum member named Harry who bravely risked life and limb, jumped to the bottom and won the bet.
What would you do with $5000 you had just won risking your life in tank full of sharks? Well, Harry asked for the money to be wired to his poker account and promptly lost it all when he got his money in with Ace-Queen against the pocket twos of Mike Matusow in a 50/100 game.
Mike Matusow vsErick Lindgren vs the Pies
The weight loss bet is a staple of the poker player prop bet itinerary. Doyle Brunson is reported to have lost thousands over the year after failed weight loss bet after failed weight loss bet. Mike Matusow is another player to have lost big at this bet when he wagered $20,000 with Erick Lindgren on who could lose more weight. Mike lost 17lbs but still lost the bet, after he later found out that Lindgren had been wearing sandbags under his clothes for the original weigh in.
Eli Elezra vs Everyone
When you play in the Big Game, the thought of a $1000 tournament at the WSOP doesn't really get you that excited and a number of high stakes pros were beginning to opt out of the side events at the WSOP. This was until Eliz Elezra raised the stakes for the big game players and offered a 5:1 bet with Phil Ivey that he could take down a bracelet. Before he knew it Eli was booking similar bets with the Likes of Doyle Brunson, Barry Greenstein and the like and what do you know, he won the Stud Hi/Lo bracelet. Eli won $250,000 in prop bets, which was actually a fraction more than the first prize for the event.
Ed note: Make some regular poker bets at Everest Poker but win big money all the same!