Nick Slade Wins the PartyPoker European Open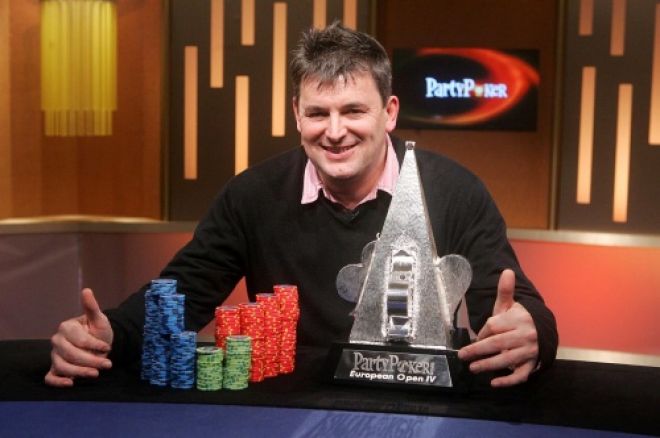 Nick Slade has completed one of the great poker comebacks by winning the PartyPoker European Open in London last weekend. Slade was considered the rising star of European Poker in 2006 after a string of formidable results but had a very quiet 2007. He almost quit poker completely due to the serious illness of his wife and a water skiing accident which shattered is neck.
But Slade marked his return to the poker circuit in January when he won the Luton Grand Challenge. This was Slade's first ever TV tournament and was considered a 100/1 outsider in the 72 man field which included some of the best in the world. Despite this, Slade found himself heads up with another rank outside, Craig Burgess of Worcester.
Both men carried their chips to the table from their semi final heat earlier, and both were short stacked at a table that included Juha Helppi, Annette Obrestad, Josh Tyler and Ian Fraser. Slade really managed to overcome some considerable odds as he won this event, which he puts down to his preparation:
"I did a lot of work studying Annette before the tournament because I thought that if I was to get anywhere she would be there or thereabouts. I basically knew that if she got a lot of chips she would continually try and re-raise me with a bag of rubbish and it proved to be right. I knew that Frazer would try and be the table captain, Helppi would be seriously solid and Tyler was a good player after encounters in cash games."
Slade will surely be a regular once again on the circuit after what was his biggest win of his career, a $200,000 pay day:
"This is my biggest cash by quite some way, it's an amazing feeling," said Slade. "The money will come in very handy and I intend to take my three kids to Florida on a holiday and get back on the circuit. My wife is over the worst; I just hope this is the start of a new chapter in our lives."
The show is televised on Channel 5 from March and if you want a really good laugh, you can set your Sky Plus for heat 10, where you'll get to see myself showing the world how to bust out in 5th place of my preliminary heat.
PARTYPOKER.COM EUROPEAN OPEN IV – 3 Mills, London 1st-8th February 2008

1st Nick Slade $200,000
2nd Craig Burgess $100,000
3rd Ian Frazer $50,000
4th Annette Obrestad $30,000
5th Josh Tyler $25,000
6th Juha Helppi $20,000

Ed note: PartyPoker is still THE place for juicy online cash games