Could You Win a Poker Million at Ladbrokes Poker?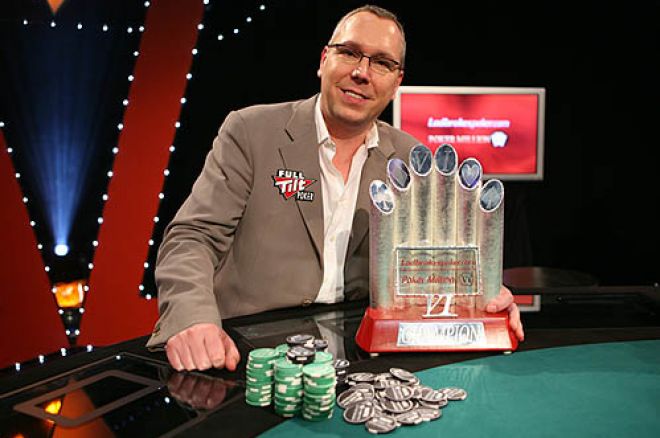 Ladbrokes Poker Million VII is Europe's longest running televised tournament. From now until the 29th of June 2008 you can qualify exclusively at Ladbrokes Poker for a special package worth $21,000 to play in one of the 12 televised 6 seat heats.
To add to the excitement, like last year, Ladbrokes Poker will allow the top professional poker players to buy their way into the heats for this event, giving the amateur online player a rare opportunity to play against some of the best players in the world. As well as this opportunity, Ladbrokes Poker will be adding four additional semi-final seats as a new promotion for this year, two of which will be won online exclusively at Ladbrokes whilst the show is being broadcast between September and November 2008. The two other additional semi-final seats will be played for in two televised six handed second chance tournaments by the runners up in the 12 televised heats. The Ladbrokes Poker Million VII heats will be broadcast every Tuesday from the 9th Sept to the 9th December on Sky Sports 2. The semi finals and final will be broadcast live in December.
For as little as $1 you can win your chance to play alongside star names such as snooker legend Jimmy White, EPT founder John Duthie, well known Irish poker professional Donnacha O'Dea, and Hendon mobster Joe Beevers, who have all competed in past Poker Millions. There are multiple daily super satellites on Ladbrokes Poker which feed into regular daily and weekly finals. The first weekly final was held last week on 10th February and these will continue for as long as there are seats available. Ladbrokes will be adding a massive $500,000 in prize money and first prize as usual is a guaranteed life changing $1,000,000, making it well worth qualifying!
Edward Ihre, Managing Director of Ladbrokes Poker commented "We're keen to build on the popularity of Ladbrokes Poker Million, knowing that it holds a special place in poker history. The changes we made last year, allowing the cream of the world's poker players to buy-in, was well received and we think the addition of four seats and the opportunity to get in on the action while the event is in full flow is another interesting facet to the tournament that will be welcomed by our players. Ultimately, we want to ensure that the format remains fresh and exciting to all."