Kara Scott Wins PartyPoker Sports Stars Challenge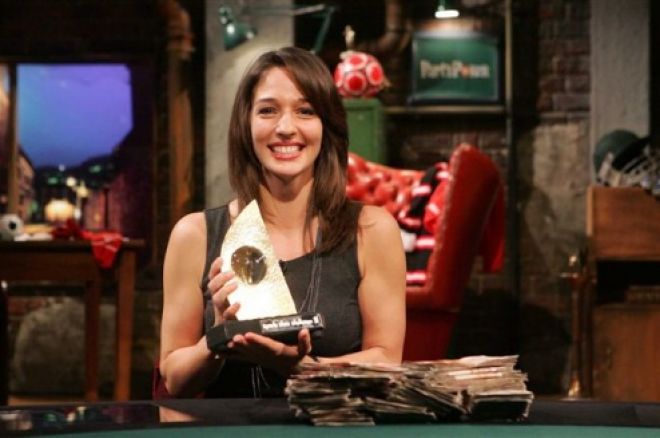 Lock a bunch of professional sportsmen in a room together and engage them in competition and you can expect a fierce environment -Testosterone, adrenaline, animosity and psychological games. Yet a delicate young woman whom we have no evidence has ever kicked a ball in her life has just tamed these sporting powerhouses in their own den. Mind you, she is a bit handy with a deck or cards and a stack of chips.
Sky Poker presenter Kara Scott has just won the PartyPoker Sports Stars Challenge and taken the £32,000 first prize. Kara won her leg in the sports presenter heat, following her involvement with Sky Poker and also as a regular face on Kickboxing shows. She bested a final table that included snooker legend Steve Davis and football star Norman Whiteside.
"This is just simply fantastic," said Kara, who was overwhelmed with emotion when the moment sunk in. "I did fancy my chances at the final table but knew there would be some tough opponents. Steve Davis had to be the favourite at the start and I'm just so happy that I came out on top in my skirmishes with him. I've played with him a number of times before and he's always won. Early in the heat I was sure he was pushing me around so I knew I had to get more aggressive and it worked!"
This is not Kara's first major result, as she made the final of the PartyPoker Women's Open last year and proved that she hasn't just been reading from an autocue during her time as a poker presenter. Expect to see her as an even more regular face on the circuit following this win, "I'm going to use the money as a bankroll," she said, "but I will also buy a few pairs of shoes!"
Scott dominated the table from the start of the game, busting Steve Davis and Gladstone Small in the very same hand. She then quickly disposed of Norman Whiteside heads up to become not only the first female winner of the Sports Star Challenge, but the first ever female finalist. A PartyPoker.com spokesman said: "Kara's reputation on the poker scene continues to rise and rise, she's on a bit of a roll. Last year, she made the final table of the Women's World Open and impressed there with her aggressive game. It's obvious that this win means a lot to her and she deserves it."
Eddie Hearn, Head of Online Gaming at Matchroom Sport said: "This year a presenter won, last year it was a snooker world champion and the year before it was a former rugby union international. It was a fantastic event but these footballers need to up their game!" Our prediction, however, would be to always bet on the snooker player in these events, snooker stars seem to have a natural ability in the game and the snooker heat is arguably tougher than the average final table. Players like Steve Davis, Matthew Stevens, Ken Doherty and Mark Williams all know their way around the snooker and poker table felt equally.>
PARTYPOKER.COM SPORTS STARS CHALLENGE III – FINAL TABLE
1st Kara Scott (Presenter)
2nd Norman Whiteside (Football)
3rd Gladstone Small (Cricket)
4th Steve Davis (Snooker)
5th Brad Drew (Rugby League)
6th Wayne Mardle (Darts)