Jeff Kimber Wins GUKPT Walsall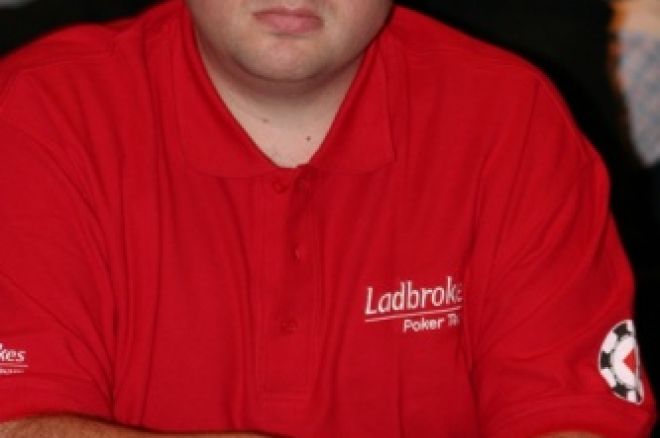 For the second month in a row, an established pro has won the main event of a GUKPT leg. Jeff 'Jaffacake' Kimber last year announced himself as a major contender by winning the World Headsup Poker Championships in Barcelona; he has now proved it was no fluke by taking down the GUKPT Walsall title. Jeff takes home £83,000 plus a seat in the grand final at the end of the year.
Kimber, just like last month's winner Julian Thew, is recognised as one of the nice guys of UK poker. A former sports journalist from Newcastle, he always friendly and approachable. He also has some major results on his CV – making final tables in the WPT, the Ladbrokes Poker Cruise, the Betfair Asian Poker Tour and the Johnny Chan Invitational. His win at the headsup championship catapulted him to the public's attention and this victory will firmly establish him as one of the top players in the UK today.
Jeff defeated Peter Charalambous to take the title. He captured the chip lead heads up when he got his pocket aces paid off when Charalambous hit top pair holding king-jack and Kimber hit an ace on the turn to seal the lead. He then flopped a straight holding six-eight suited to Peter who once again hit top pair, which was enough for all the money to go in the middle and a new champion crowned.
Special mention goes to Nik Persaud who came in 4th for £23,000. This was Nik's 3rd GUKPT final table (his second in a row) and he is the most consistent player in GUKPT history, having cashed in 5 of the 12 main events he has played in.
The next GUKPT leg is just around the corner, this time at the Victoria Casino in London. 400 players are expected to descend on the nation's capital for the week long festival, which should make it one of the biggest prize pools found on these shores this year.
Final Table Payouts
1st Jeff Kimber £83,910
2nd Peter Charalambous £48,790
3rd Dharminder Buttar £35,160
4th Nik Persaud £23,680
5th Craig Metcalfe £17,940
6th Charlie Denton £14,350
7th Aaron Barry £11,480
8th Terry Owens £8,610
9th Luke Patten £6,460
Ed note: Win huge tournaments online when you join T6Poker