Michael Keiner – Tournament Director Interview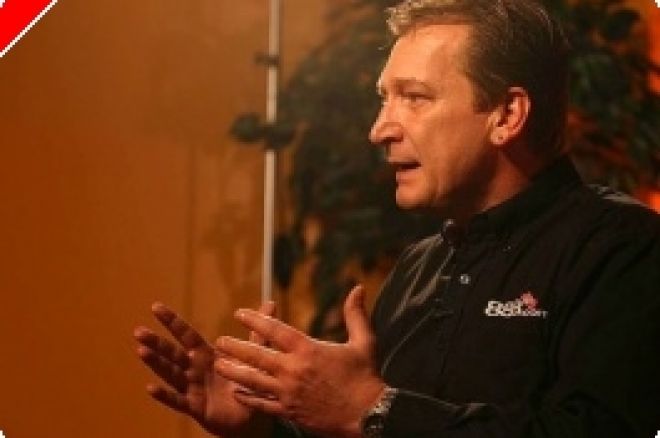 At the 888.com Poker festival, Michael Keiner was tournament director and "Master of Ceremony" for the first time. The 888.com Poker festival was held between 18-20 January and featured the "888.com Uni Poker Open" and the €100,000 tournament.
The venue for Day 1 and Day 2 was the Poker Royale Casino in Wiener Neustadt – a logistic and organisational challenge with 1008 entries.
For the final day the tournament moved to the Concord Card Casino (CCC) in Vienna where a television studio had already been set up. This was a good opportunity to meet the 2007 Seven Card Stud Bracelet winner for an interview in person.
What happened really in Asch and why did 888.com host its own tournament?
In Asch 888.com would have been only a sponsor for the title, but actually they just provided the poker tables. PokerTour24.com's organisers ran things horribly and they had the tournament fail and then the Czech authorities shut it down. Therefore 888.com had a moral commitment towards the players and we have organised the replacement tournament – the 888.com Poker festival and the Uni Poker Open. Everybody I met in the Poker Royale Casino in Wiener Neustadt and in the Concord Casino in Vienna was pleased and excited that we were able to do this.
Why did you choose Austria for the location?
Well, due to the huge field it was obvious that we needed a location that could handle such a crowd. 1008 players participated in the Poker festival tournament and the Poker Royale Casino was the ideal location. The final day took place in the CCC because a television studio was set up for the final table which will air in February on "Das Vierte" (German TV station)
How did the tournament's first two days go?
Frankly, I was a little bit scared before the tournament started. It was my first tournament as a tournament director and "Master of Ceremony" but together with the teams of Poker Royale and CCC the organisation worked perfectly smooth.
What do you like better – being tournament director or playing yourself?
Definitely playing myself
During my holidays I read your book "Living on the Edge" and wrote a review. Since I have you in front of the microphone now I would like to take this opportunity and ask you about the book. Unlike many other poker books it contains very personal aspects in which the strategy is embedded. Did you plan it this way?
I had the book in mind for two years and I did not want to write a text book. I wanted to outline the importance of psychology in poker and that the real life is part of the game. Sometimes you are on a run and sometimes it does not work all, in which not even the best strategy would help. Once you have accepted this it is much easier to play the game.
In "Living on the Edge" you describe your passion for riding motor bikes. Do you regret not having enough time for this hobby because of your profession as a poker pro?
Not at all, for I am very ambitious in everything I do. Participating in the motor bike races I wanted to become world champion but did not succeed. In poker I was able to achieve this at the WSOP. Since 1995 I have not sat on a bike – unbelievable but true.
I have the book "die Poker matrix" at home but have not been able to read it yet. May I ask if your part in the book will be similar to "Living on the Edge" or is it completely different? Will there be any overlapping?
There is no overlapping. In "Poker matrix" I was purely interested in the psychological aspect and I created it a little different compared to most of the other psychology books. The prologue is about the final table in Velden this year, and I have characterised each player in detail and then went on why I had played the way I did. For example, there was Harry Casagrande and Stefan Oberholzer at the table and I have described why I played differently with each player although the technical situations were identical. This is the first way into the psychology of poker. Based on this situation I told myself "alright" what does it take to create the non-technical aspect optimally. Today I regard the psychological aspect as an important basic technique. At the EPT tournaments 70% are good technical players. Therefore, in order to survive I need an edge – set up an image, heighten one's profile, manipulate the opponents. These are all psychological aspects. Finally I have taken up a rather controversial topic – "Neuro Linguistic Programming" which has not been put in relation to poker yet, according to my knowledge.
Did you have time to observe the players?
Yes, a little bit and I was surprised. I have seen very good poker, especially in the way people waited or bet their chips. I was really surprised by their body language. I am sure there were some professionals playing.
Some say online players have good technical skills but lack the psychological aspect. Do you agree?
In this tournament there are many live-players because they wanted to play in Asch and those people have their origin in live tournaments and probably play once a week. You can see major differences between a live-player and an online player.
What is your opinion on the new German gambling law?
In my opinion the law doesn't make any sense. They are trying to save an out of date monopoly by means I consider not always to be legal. This is very sad and there is some lying too. For example the EU-commission has presented false facts. Furthermore there are some ridiculous things going on if you have a look at the current situation of "bwin". One state court rules "bwin" is only permitted to operate in the eastern part of Germany, another state court rules "bwin" can operate in the entire county. I think reason for all this confusion are 100-150 politicians who are board members in companies or work in other key position and who are paid some ten thousand Euros per month and they want to maintain this money flow. That is why 38,000 jobs are not filled and billions of tax money runs through the states fingers. The people are being pushed into a grey area.
Katja Thater once said that being in the media also has a lot of downsides. You are always watched by a camera. How do you handle it?
I don't mind if there is a camera pointing on me while sitting on a table. Some players are bothered if a photographer leans into the table to get a better picture but I don't care. Away from the table it is part of my job.
What is next for you after this tournament?
I will be in Munich to dub ten episodes of the UK-Open which will air on "Das Vierte". Then I am in a talk show and then I am off to the poker fair in Cologne. After that I play the EPT in Dortmund and then the CAPT in Innsbruck. You see, my schedule is full until the WSOP.
There will be some improvements for the WSOP this year. Tournaments are no longer played in the tent and the rooms of the conference centre are going to be used as well.
Actually they dispose of huge rooms which have not been made a playing area because a wedding reception or a bachelor party might be booked. It is really ridiculous what Harrah's is pulling off. The WSOP is a multi million Dollar Event and the players don't deserve to play under these conditions.
Time is running by quickly and Michael Keiner has to get back to the tournament. Thank you very much for the interview.