UKPN Profile: Eric 'Rizen' Lynch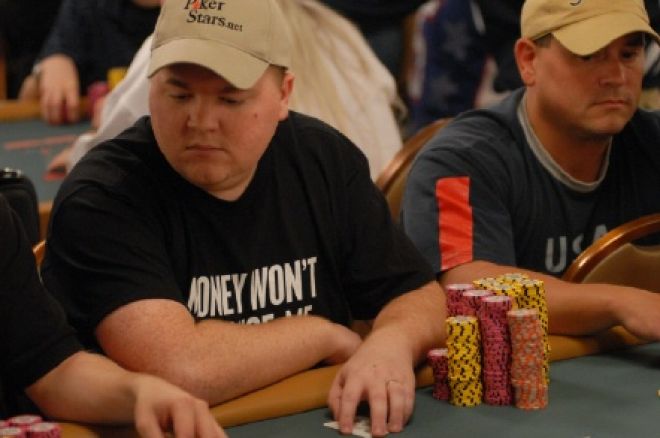 Having recently made it deep in the EPT Poker Stars Caribbean Adventure Eric "Rizen" Lynch has demonstrated his immense talent, simultaneously proving what poker insiders have known for a long time. With strong outings in the last two WSOPs to go along with his recent performance the name Rizen has begun to move out of the forums and into poker's mainstream. Eric Lynch is fast becoming one of the games most respected talents.
Finishing 26th in the recent EPT Eric was pragmatic about his result, as is so typical of the new breed of players.
Rizen: 'I played very well the first few days and had an amazing run of cards to build a very nice chip stack early on. I managed to ride that fairly deep into the tournament before I was crippled in a classic coin flip situation with AK vs. QQ. Unfortunately the coin flip didn't go my way and you have to win a few of those to win a tournament.'
UKPN: Was it a disappointment not to win the tournament after being amongst the chip leaders for such a long time?
Rizen: 'I'm disappointed any time I don't win a tournament. Obviously I know I can't win every tournament I enter, but I go into every one with the mindset I'm going to win it, and when I don't there is a certain disappointment to that. The fact that I had a big chip stack the entire tournament added a little to the sting, but I feel I am always competitive and I expect to finish strong regardless of if I have lots of chips or very few.'
Unlike many young internet pros, Eric got into poker the old fashioned way via the traditional Friday night home game, 'playing all the usual home game stuff with crazy seven card stud variants like baseball and Mississippi stud.', recalled Lynch. After taking some pointers from one of his good friends, who at the time was making a living from playing limit holdem online, Eric, the software engineer by day, became Rizen the online supernova by night. In late 2005 Rizen began to put together a strong run of online MTT results, including an $11k win in the stars $11 rebuy. This however was only the tip of, what was to become, a very large iceberg.
'After I won that (the $11 rebuy on Stars) I won the Friday Special on PartyPoker for $45,000 and that sparked a series of cashes which eventually lead up to the Stars Million Win.'
Taking down the million for $156,000, it was clear that Rizen had an obvious talent for the game and it was soon after this that Eric seized the opportunity to leave his well paid job as a software engineer and pursue poker fulltime. This new career meant that Eric was able to provide for his family financially, but more importantly he was able to take a much more active part in raising his young family.
'I value the blessing I have being able to support my family doing something I love. I get to spend all day with my wife and kids doing stuff other dads don't get to do which is amazing.'
In contrast to the voyeuristic lifestyles of many young poker pros, Eric follows a strict schedule which allows him to combine both his new profession and his family.
'I don't start playing poker until just a couple of hours before they (the children) go to bed every night and I'm almost always awake within a couple hours of when they are.'
In the world of superstar players and playboy lifestyles it's refreshing to see that top players like Eric are able to successfully combine the poker world with the real world.
Aside from being a prominent player Eric also hosts a popular blog (http://www.rizenpoker.com/) in which he details the ups and downs of professional poker. His blog also features a regular Q&A session entitled "Ask Rizen."
UKPN: What was the motive behind starting Ask Rizen?
Rizen: 'Well it was partially for selfish reasons. I'm fortunate that a lot of people out there respect my opinion enough to send me e-mails a lot asking questions about poker, life, and other topics that I blog about. A lot of the same questions come up over and over again though. I figured rather than sending the same ten e-mails to ten individuals I could answer it once in my blog and maybe in addition to the ten people that asked the question twenty more might get something out of it as well.'
Eric's sage like qualities extend far beyond the advice he offers to loyal readers of his blog. Rizen is one of the most popular tutors on the training site PokerXFactor.com and although he has an outstanding tournament record he is the sites resident cash game expert. 'Shortly after my Sunday Million win they (founders JohnnyBax aka Cliff Josephy and Sheets aka Eric Haber) approached me to be a guest pro at the site, specifically to create a video series on that particular win.' Following the success of this initial video series Rizen has gained a reputation for producing extremely well formulated and accessible poker videos. 'Most of my videos focus a lot on how to read tables and different situations that come up and then take advantage of them.' With the increase in training sites such as PokerXfactor one might be concerned that players like Rizen are giving away some of their most profitable plays to less experienced players.
Eric, however, is reflective about the situation: 'I think the idea of "secrets" in poker is way overrated. There is no magical formula for poker and there are no secrets to success. The secret to success in poker is creating a mind set and thought process for yourself that allows you to continuously adapt to changing play and table conditions. The important part is to then apply this knowledge effectively and constantly make good decisions whilst playing.'
Father, player, tutor or student. Eric, Daddy or Rizen. In the Lynch household each term is as synonymous as is it is antonymic. Eric wears more hats than Jamiroquai but what separates him from the rest is that each one has been skilfully moulded to fit perfectly with any other. Whether he is sitting at the poker table or the breakfast table, explaining the subtleties of the check raise or reading a bedtime story, Eric Lynch does so with passion, dedication, eloquence and style. In a world where over-hyped poker celebrities have become the norm it is refreshing to see players like Rizen become successful household names. Although he may not see himself as one, Eric, in my opinion, is a role model for every player in the game because he reminds us that poker isn't life it is merely a part of ones life. Success in both is dependent on balance and commitment and Eric seems to epitomise this concept more than most. Indeed, if Eric can continue to find that balance between taking care of his family and crushing opponents across the green baize then the future looks very bright indeed; well at least for Rizen it does.